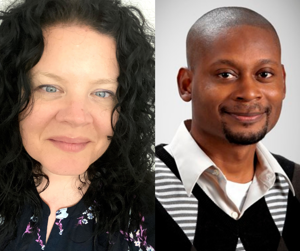 Over the next week, USI Today will continue to highlight a few of the Unsung Eagles on campus – those individuals who worked behind the scenes over the last year to ensure the campus of USI continued on as normally as possible.
For Information Technology, there was more than just a possible work-from-home situation being discussed when the COVID-19 pandemic hit in March 2020. For the Blackboard application management team, made up of Shannon Hoehn and Walter Fisher, there were Campus Store transitions, a new Blackboard platform, classes to teach and calls and emails for technology help packing their schedules.
Hoehn and Fisher make up the two-person team tasked with running the learning management system at USI, along with many other applications including the Panopto video platform and Respondus LockDown Browser (used to help prevent cheating on exams taken online). However, like many, their tasks do not stop simply with one, two or three applications – from time to time, the duo also assist with other applications that are very integrated in Blackboard.
"Most universities, they have a set team for Blackboard help desk support, a set team for Blackboard front end support, and a staff person for Blackboard backend support. Here, we do it all," said Fisher. "We also are heavily involved in the management side of it as well."
"We are a small but mighty team," added Hoehn. "Our entire IT Department is small but mighty."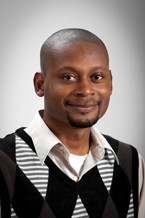 A small, mighty team that was put to the test then and now as the University continues working on solutions to manage new guidelines. When it was announced classes would go virtual in 2020, Fisher and Hoehn found themselves with a large task – ensuring all of USI's faculty and students were able to function as normally as possible. This meant helping those faculty and students who had never held or participated in online learning get up to speed in their knowledge and needed equipment, and very quickly.
"Walter and I were working with Online Learning to get trainings done, early on we were constantly having to Zoom with faculty who were on sabbatical or out of the country, the MBA program was growing and we were called upon to assist in course design and foster ideas that would work both pedagogically and practically," explained Hoehn.
Other than Blackboard, both Hoehn and Fisher also handle many other applications as part of their work. For Hoehn, one of her bigger tasks was handling the Zoom accounts for the University. Managing the cloud space needed and the influx of users due to the pandemic left Hoehn tied up frequently, so she relied heavily on Andy Black and Mike Mikulski.
"They helped fill in all the little gaps with Zoom – troubleshooting hardware and things," said Hoehn.
On Fisher's end, he also serves as the SQL administrator for the University, which means he manages the database systems needed for the University to function. It's not glamorous, nor does it see a lot of recognition from its users (most of us will never truly know if something is wrong with the SQL), but it is a skill Fisher continues to hone.
"It's just one of the things that is on the rise here at the University – working on our backend processes to keep all of the data safe," he said.
Another job function? Despite COVID-19, during the 2020 Fall Semester Hoehn and Fisher continued to teach segments of UNIV 101 classes, allowing them to virtually, or in person, train students on Blackboard.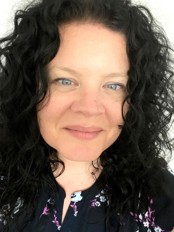 "That's a program we hope to grow in the future to personally let every student see who we are and give them training so they can have a better experience here at USI," said Fisher.
Hoehn and Fisher said universities – including their team – were reaching out to each other for support and guidance and they were lucky to already have so many tools in place. They both point to the leadership in their department by Richard Toeniskoetter, Chief Information Officer for USI, for bringing in these tools which helped during a dire time.

"We had so many programs going already – we already had Panopto, Voice Thread, Zoom, Proctorio, Respondus Lockdown Browser. And a lot of universities were scrambling, wondering what they were going to do," added Fisher.
For this IT team, the behind-the-scenes work is worth the effort to ensure the USI student body continues to learn, grow and achieve the goals they have set for themselves. This doesn't come by just helping with technology problems – both have served as faculty advisors for student groups and attend many campus events to support students.
"I'm a Screaming Eagle through and through. I'm intrinsically motivated just to see USI succeed," said Hoehn. "Even though it was very stressful, I was seeing faculty do amazing things. It was almost like we were watching our kids grow. Watching faculty really grow and change and blossom made me more determined to keep pushing."
"For me, I feel like I am called to work with young adults. There's a social aspect to our personalities. We want to see people succeed," added Fisher. "I've been placed in a unique situation to help young adults either indirectly by helping their teachers or directly by helping them when they have Blackboard issues or going to their classrooms and training them. We just care about the people we serve."
We thank Shannon and Walter for going above and beyond, not only during this unprecedented time, but as the University of Southern Indiana moves forward. We encourage all those on campus to thank Shannon, Walter, the entire IT department and other Unsung Eagles who have worked tirelessly behind the scenes at USI.
Thank you, Shannon and Walter!