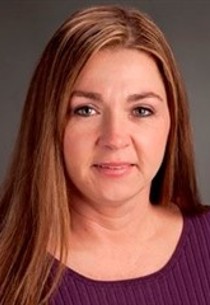 Over the next two weeks, USI Today will highlight a few of the Unsung Eagles on campus – those individuals who worked behind the scenes over the last year to ensure the campus of USI continued on as normally as possible.  
TerriSue Morris '19 had just begun her new position in February 2020 as a payroll assistant in the Human Resources Department for the University when the COVID-19 pandemic forced a shutdown of normal schedules across the campus. As responsibilities changed and new challenges cropped up from the pandemic, TerriSue was asked to be a part of the University's COVID contact tracing team. She immediately said yes.
"Contact tracing happens if someone from the University contracts COVID, then we are required to reach out to other University employees that they were in close contact with," explained Morris, a Chandler, Indiana, native.
While keeping the campus safe by making these contacts quickly was an important part of the new role Morris assumed, it wasn't the only important aspect. She also worked to ensure employees who were on sick leave qualified for pay by helping them start or fill out the necessary paperwork. She would continue to check in with employees as well and do all she could to help them get back to campus safely.
"I would reach out to them, follow up with them throughout their leave. I wanted to see how they were feeling," said Morris. "If they felt really bad, I wanted to see if there were any resources they needed from the University. And then just getting them back to work; I wanted to make the process as easy as possible for them."
If this meant working late hours, over the weekend, or during breaks, Morris did so. As someone who enjoys taking on new responsibilities, she found the work rewarding. But most importantly for her, the role was about keeping the campus safe and helping her fellow USI employees get back to their jobs, which was why she stayed in touch with those on leave regularly.
"I really was very concerned about how people were feeling. I wanted to see how they were doing and making sure they were recovering," she said.
The caring nature is just a natural part of being a part of the USI family, Morris said. Though her job as a payroll assistant began in February 2020, it was not the first position Morris has held with the University. She previously worked on campus in 2016 as an administrative associate in Undergraduate Admissions.
"I feel like it's part of my family. It's a very home feeling," she said. "I feel like this University cares about you."
We thank TerriSue for going above and beyond not only during this unprecedented time, but as the University of Southern Indiana moves forward. In the coming weeks, we encourage all those on campus to thank TerriSue and other Unsung Eagles who have worked tirelessly behind the scenes at USI.
Thank you, TerriSue!