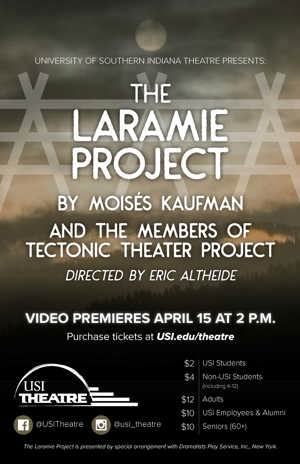 For its first production of the Spring 2021 Semester, University of Southern Indiana Theatre continues to make departmental history in the midst of a pandemic. The Laramie Project, by Moisés Kaufman and the members of Tectonic Theater Project and directed by Associate Professor of Theatre Eric Altheide, has been recorded for production, as were the first two plays of the season.  What makes The Laramie Project unique for the program is the production's set, or rather, its lack thereof.  The play has been recorded like a movie and shot on location instead of taking place entirely on stage in the Performance Center. 
The Laramie Project tells the real-life story of Matthew Shepard, a 21-year-old gay man who attended the University of Wyoming, through a series of interviews.  In October, 1998, Matthew was kidnapped, beaten, tied to a fence, and left for dead in the prairie outside of Laramie, Wyoming.  Although he was found alive, he died a few days later.  It would come to light in trial that Matthew had been a victim of a hate crime because of his sexuality.  Moisés Kaufman and other members of the Tectonic Theater Project traveled to Laramie several times to conduct more than 200 interviews with residents of Laramie regarding the crime, which combined with their own reactions, became The Laramie Project.  The interviews show a breathtaking compilation of reactions to the murder that explores the lowest depths of humanity but also the truest levels compassion that mankind can ascend.
While most of the scenes take place in familiar areas of the USI campus, a carefully approved venture was taken off campus to local Evansville restaurant The Rooftop.  This marks a monumental project for the program by presenting students the opportunity to learn about the process of scouting locations, working with lighting and sound restrictions, and how to act for the camera instead of for a live audience.
The play will premiere at 2 p.m. Thursday, April 15 in a video-on-demand format. This means that you can watch our students perform anytime, anywhere, from the comfort of your own home!  The video will be available until Thursday, April 22.
Altheide will be joined by a design team including USI faculty member Paul Weimer as Art Scene Designer; USI staff member Joshua Stallings as Sound and Lighting Designer; USI student Annabelle Gladding as Costume Designer; USI staff member Andy Hammond as Technical Designer; USI student Grace Koltz as Production Stage Manager; and Charles Schefer as Cinematic Consultant.
The cast of The Laramie Project includes USI students Cole Brinker, Hadin Hart, Easton Crisp, Austin Ferrari, Perci Hale, Jalyn Bird, Clare McGregor, and Jesse Crull.
Tickets are $2 for USI students, $10 for USI employees and alumni, $4 for non-USI students, $10 seniors (60+), and $12 for adults. To purchase tickets or for more information visit USI.edu/liberal-arts/usi-theatre. Follow USI Theatre on Facebook at USITheatre and Instagram @USI_theatre for updates and photos.