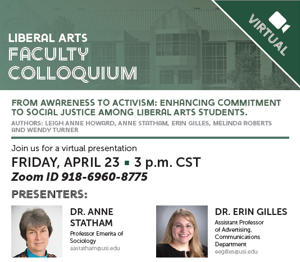 The University of Southern Indiana College of Liberal Arts will host its final virtual Faculty Colloquium presentation of the Spring Semester, "From Awareness to Activism: Enhancing Commitment to Social Justice Among Liberal Arts Students," at 3 p.m. Friday, April 23. The public can attend by going to USI.edu/lafc to find the webinar link.
The presentation will be given by Dr. Anne Statham, Professor Emerita of Sociology, and Dr. Erin Gilles, Assistant Professor of Advertising. The article that the presentation is based on was written by Statham and Gilles, along with Dr. Leigh Anne Howard, Professor of Communications, Dr. Melinda Roberts, Professor of Criminal Justice, and Dr. Wendy Turner, Professor of Social Work.
Liberal arts students from a comprehensive Midwestern university were sampled about their commitment to social justice along three dimensions: recognition that inequality exists, determination that something must be done, and a willingness or propensity to engage in actions aimed at reducing inequality. Differences in these dimensions of social justice were examined between students in freshmen and capstone courses in six disciplines: criminal justice, sociology, psychology, communications, social work and gender studies. Capstone students consistently showed increased commitment to social justice compared to freshmen students, with the greatest changes occurring in propensity to take action and the least change in recognition of inequality. Patterns differed significantly within the six disciplines, and consideration is given to the emphasis placed on social justice within the six disciplines, as partially explaining the differences. These disciplines also tend to attract students with differing levels of commitment to social justice in the first place. These results suggest some modification to the notion in the literature that a "principal-implementation" gap exist among adults in their commitment to social justice that tends to increase with maturation.
This presentation is part of the Spring 2021 Liberal Arts Faculty Colloquium. Each Fall and Spring Semester, USI faculty members from the College of Liberal Arts present individual, free public lectures featuring their current research. To see the current lineup of speakers for this semester, visit USI.edu/lafc. For more information, contact Dr. Urska Dobersek, Assistant Professor of Psychology, at 812-461-5203 or udobersek@usi.edu.