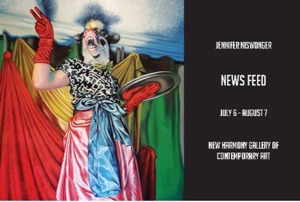 The New Harmony Gallery of Contemporary Art's latest exhibition, News Feed, featuring paintings by University of Southern Indiana alumnae Jennifer Niswonger '14, will be on display Tuesday, July 6 through Saturday, August 7.
A public closing reception with the artist will be held on Saturday, August 7 from 4 to 6 p.m. in accordance with USI COVID-19 safety precautions.
In News Feed, Niswonger's narrative paintings investigate the performative nature of digital media. Responding to the fervid cycle of the news, Niswonger seeks to make visible the clickbait language and flashy information that is designed more to keep audiences engaged than to facilitate information.
Niswonger sets up her paintings as a stage, complete with backdrops, actors, costumes, and dramatic lighting. Hints of various real-life news stories show up as props or positions in her pieces (such as a 2017 story about cows eating Skittles). Through her vivid use of color, custom-built canvases, and precise painting techniques, Niswonger plays up the drama and spectacle of the news cycle. By doing so, she also calls out the humor and hypocrisy of performatively re-posting digital content.
Niswonger was born in 1991 in southern Indiana. She graduated from USI in 2014 where she received the 2015 Efroymson Bridge Year Fellowship. Niswonger moved to Athens, Georgia in 2016 to pursue her Master of Fine Arts degree at the Lamar Dodd School of Art at the University of Georgia. Through her work and research, Niswonger was awarded the Willson Center Graduate Research Award and the Frierson Graduate Fellowship among other scholarships. While a graduate student, she managed the Glass Gallery at the art school and founded the Locker 666 Gallery, an alternative exhibition space project that began inside a school locker. She received her Master of Fine Arts degree in 2019 and is currently an apprentice at Chico Lou's Fine Tattoos under Sara Machen-Fogle in Athens, Georgia. 
This exhibition is made possible in part by the Arts Council of Southwestern Indiana, and the Indiana Arts Commission, which receives support from the State of Indiana and the National Endowment for the Arts.
The New Harmony Gallery of Contemporary Art promotes discourse about and access to contemporary art in the southern Indiana region and is an outreach partner of the University of Southern Indiana. The gallery is located at 506 Main Street in New Harmony, Indiana. Regular hours are 10 a.m. to 5 p.m. Tuesday through Saturday. For more information, call 812-682-3156 or go to USI.edu/nhgallery.
For more information about New Harmony Gallery of Contemporary Art, contact Erin McCracken Merris, Marketing Specialist for USI Outreach and Engagement, at emccracken@usi.edu.