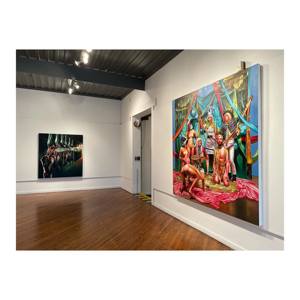 New Harmony Gallery of Contemporary Art (NHGCA) was awarded a grant from the Indiana Arts Commission (IAC) to help fund exhibitions for the 2022 Fiscal year.  
The Commission approved grant allocations totaling more than $3 million in state and federal funds for grants and programs provided by arts organizations and cultural providers that prioritize community engagement throughout the state. The gallery was one of 390 community-based arts providers throughout Indiana to receive grants for Fiscal Year 2022. 
During its June 25 Quarterly Business Meeting, the Commission approved funding recommendations for the Arts Project Support and Arts Organization Support grant programs. Over 590 applications were reviewed by 167 Hoosiers from around the state specializing in arts, community development and finance.  
"The projects and organizations that are receiving funding have major positive impacts on the cultural, economic and educational climate of Indiana," said Alberta Barker, Chair of the Indiana Arts Commission. "The Commission is impressed at the work being done around the state and is excited to support investment in Hoosier communities."  
The New Harmony Gallery of Contemporary Art provides a not-for-profit (non-commercial) exhibition space for current Midwestern artists and promotes discourse about and access to contemporary art in the southern Indiana region. Since its inception in 1975, New Harmony Gallery has provided an exhibition space for young and mid-career artists to show their work in a professional setting; and further, to provide a venue for contemporary art to the general public. The cornerstone of the Gallery's mission is education and access through a carefully planned series of seven exhibitions per year. The exhibition series, which explores contemporary art concepts, is intended to provide increased opportunity for artists and the public to engage in discourse on and about the arts and culture. 
"We are excited to announce that we have received the FY22 Arts Project Support Grant from the Indiana Arts Commission, in the amount of $5,000. These funds will help support exhibitions and programs at the New Harmony Gallery of Contemporary Art, including our newly opened exhibition with USI alumni Jennifer Niswonger, a solo show with Chicago artist Kellie Romany, the Social Alchemy Jane Owen exhibition, partnership programs with New Harmony Clay Project and more," said Iris Williamson, Gallery Manager of the New Harmony Gallery of Contemporary Art.  
"From the smallest rural communities to the largest cities, we see arts and creativity improving quality of life and driving economic development, and this funding will support the projects and organizations around the state at the heart of this progress," said Lewis Ricci, IAC Executive Director. "It is an honor to support work that is strengthening the fabric of Indiana communities." 
The New Harmony Gallery of Contemporary Art is an outreach partner of the University of Southern Indiana. The gallery is located at 506 Main Street in New Harmony, Indiana. Regular hours are 10 a.m. to 5 p.m. Tuesday through Saturday. For more information, call 812-682-3156 or go to USI.edu/nhgallery.  
About the Indiana Arts Commission 
The Indiana Arts Commission works to positively impact the cultural, economic and educational climate of Indiana by providing responsible leadership for and public stewardship of artistic resources for all of our state's citizens and communities. 
For more information about New Harmony Gallery of Contemporary Art, contact Erin McCracken Merris, Marketing Specialist for USI Outreach and Engagement, at emccracken@usi.edu.