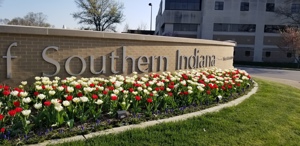 Beginning tomorrow, Wednesday, July 28, face coverings will again be required indoors on the USI campus, regardless of vaccination status, and until further notice. Physical distancing of 3 feet or more will continue to be required.
This decision was made after today's announcement and recommendations from the Centers for Disease Control and Prevention (CDC). The University has consistently followed CDC guidance throughout the pandemic.
Reversing previous guidance, the CDC recommended today, July 27, that people vaccinated for the coronavirus resume wearing face coverings indoors in areas of the country where infection rates are at a high level. Vanderburgh County and most surrounding counties throughout the Tri-state area are now in the high transmission status level according to the CDC data tracker.
The CDC's change in guidance follows case surges across the country in areas with low vaccination rates and new science regarding the Delta variant in which, in rare occasions, breakthrough infections of the virus have occurred in people who were fully immunized and therefore may spread the virus to others. Vaccines remain one of the most effective deterrents of the dangerous symptoms of infection, including those involving the Delta variant.
The University strongly encourages all students and employees to get vaccinated as soon as possible. More information about receiving the vaccine and scheduling an appointment on campus can be found on the USI Covid-19 Vaccination webpage. 
The University of Southern Indiana's highest priority has been the health and safety of our students, faculty and staff since the beginning of this pandemic. The USI Presidential COVID-19 Task Force will continue to evaluate appropriate safety measures and other policies and procedures and will inform the campus community of any changes. Thank you for your continued support in keeping our campus community safe and healthy.