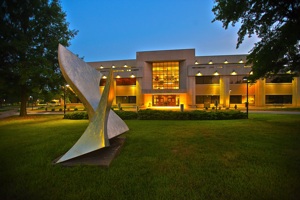 At its regular meeting on Thursday, July 15, the University of Southern Indiana Board of Trustees approved a $118.8 million annual operating budget for the 2021-22 fiscal year. University income comes from two primary sources, tuition and fee revenues and state appropriations. The board also approved miscellaneous fees for 2021-22 and reviewed the schedule of student fees and other mandatory fees for 2021-22.
During regular business, the Board of Trustees announced that it was reaffirming its commitment to President Ronald S. Rochon.
"Dr. Rochon's leadership over the past three years, including navigating the University through the COVID-19 pandemic, launching the University's third strategic plan and his never-ending focus on student success has allowed USI to remain secure through difficult times and places us in the best possible position to thrive," said outgoing Board Chair and Trustee Kenneth L. Sendelweck '76.
"Our University's visibility and reputation has been elevated through President Rochon's appointments to State and National Boards," added Ronald D. Romain '73, incoming Board Chair and Trustee. "As we look to the future, we are pleased to announce that we have asked President Rochon to continue his leadership."
As part of their annual meeting, the board approved its slate of officers, with Romain selected to serve as board chair. Other board-elected officers for the coming year include Christine H. Keck as first vice chair, Christina M. Ryan as second vice chair and Daniel M. Fuquay as secretary.
The Board of Trustees, as part of their regular meeting, approved a new Bachelor of Science in Health Administration degree program, to be offered through the College of Nursing and Health Professions. The degree program will next move to the Indiana Commission for Higher Education for approval.  
The proposed degree would deliver an educational program of study that prepares graduates who are fully qualified for entry-level positions in the professional practice sector of the health administration career field, whether in private, corporate or governmental healthcare organizations with a focus on both acute and post-acute care settings.
The Bureau of Labor Statistics projects national employment of "medical and health services managers" to increase 20% from 2016 to 2026 and the Indiana Department of Workforce Development projects job openings for entry-level bachelor's degree candidates to increase nearly 22% in the same time frame.
In additional business, the Board of Trustees approved the disbursement of financial aid awards for the 2021-22 academic year and received an update on current campus construction projects.