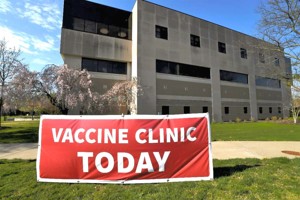 The University of Southern Indiana is opening its Vaccination Clinic to the general public, allowing anyone eligible for the Pfizer COVID-19 vaccine to make an appointment and receive the vaccine at the on-campus University Health Center.
Existing USI Vaccination Mini-Clinics scheduled for Wednesday, July 21 and Friday, July 30 are now open to all eligible to receive the Pfizer vaccine. Beginning Tuesday, August 3, vaccine appointments will be offered every Tuesday and Thursday that the University is open through Tuesday, December 21.
COVID vaccine doses administered by the USI Vaccination Clinic will be administered at no cost. Insurance information is not required.
To make an appointment, visit the State of Indiana Vaccination appointment portal and choose "USI University Health Center" as the location.  All healthy individuals age 12 and older are eligible to receive the vaccine, regardless of state of residence. Minors must be accompanied to their appointment by a parent or guardian.
The USI Vaccination Clinic is located in the University Health Center,  room 0091 on the lower level of the Health Professions Center. Use the entrance at the southwest corner of the building. Directional signage will be in place. Parking is free and located in close proximity to the Health Center.
Masks or face coverings and a valid driver's license or other photo ID are required for all patients receiving the vaccination, and patients receiving their second dose should bring their Vaccination Card. After vaccination, you will sit for a 15-minute observation period to watch for rare allergic reactions.
More information is available on the Health Center website.