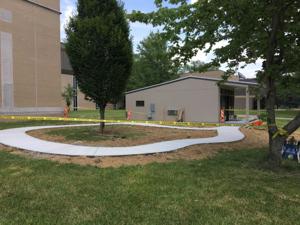 If you've taken a walk around campus recently and passed by the Education Center, you may have noticed some different details about the Minka Learning Lab for Living Well. There has been a lot happening in and outside the Minka during the summer and it has Dr. Lisa Fournier, Project Coordinator of Gerontology, and the entire USI Geriatrics Workforce Enhancement Program (GWEP) excited.
"It's amazing. It looks so simple, but there's so much that's been done," says Fournier.
The Minka Learning Lab for Living Well is a 600-square-foot smart home that utilizes integrated technology to showcase living-in-place possibilities. It was built in 2018 and is one of the first of its kind, designed by nationally renowned aging expert Dr. Bill Thomas. Students, faculty, community members and healthcare professionals can participate in simulations, workshops, research, smart home tours and interdisciplinary class projects at the Minka.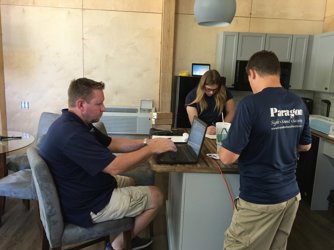 The purpose of GWEP (along with the Minka) is to improve health outcomes for older adults in underserved communities of southwest Indiana by developing a workforce to maximize patient and family engagement and integrate geriatrics into primary care. It is a five-year project that includes USI and community partners including three Deaconess primary care clinics, the Deaconess Family Medicine Residency Program and two Area Agencies on Aging (SWIRCA & More and Generations).
The Minka updates completed this summer fall in line with what the structure always was meant to be—a smart home assisting educators, students and those in the healthcare community to study how to help aging people stay in their homes longer. The first, and most notable, change can be seen simply by making your way past the Minka. A small walking path was laid by Deig Brothers Lumber and Construction on the plot next to the Learning Lab. The walkway along with the surrounding landscaping was designed by civil engineering students of Adam Tennant, Assistant Professor of Engineering. As a class project, the students planned not only the path, but a patio area with furniture and raised garden boxes.
It's just one instance of how GWEP and Minka work with multiple departments across the USI community.
"They had to survey all the ground and figure out how to deal with the ditch on the side of the house," says Fournier. "It all worked out really good."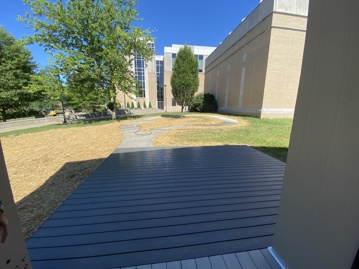 The entire area will offer an opportunity for the Minka to beta test a geo location service, which will enable a smart phone app to keep track of the phone's owner.
"So instead of getting fencing, which would make a person who is older feel like they are contained, there would be a geo location service, and it would be nothing more than having your smart phone on you," explains Fournier. This way, if the owner of the phone ventures off the pre-determined path, a caregiver is notified so appropriate and safe actions can be taken.
Inside the Minka, the changes may be hard to see, but they are an experience for those working in simulations or touring the facility. Smart technology installations paired with basic functions in the house act as a bridge to study how to help aging people stay at home longer. This includes actions such as lights turning on and off, no-touch faucets, a smart doorbell with camera, touchscreen Smart TV and more. The smart technologies allow for different scenarios to be programmed and tested—setting lights to turn off in the entire home when an aging person climbs into bed at night and turning back on if they get up in the middle of the night. A smart doorbell which allows them to see visitors and hear them without having to open the door. A touch pad connected to security cameras in the home. A TV that can help them search for needed information or a smart home system—such as Alexa or Google—that does a task upon vocal prompting.
It may all seem simple—tasks that we often do not  give a second thought to as we go through our everyday lives—but Fournier points out each is an important step in allowing people to be more independent and live safely in the comfort of their own home as they age.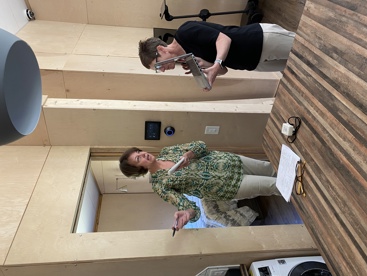 GWEP hopes to also create an AI program which would not rely on vocal prompts, specially orientated to people living with dementia.
"We're looking at developing something where a person could be walking into the home and because they merely open the door, a task begins, such as photos of their grandchildren or travels pop up on the TV screen or a specific playlist of music starts playing," Fournier says. "Things that give them these joy moments; doing things that would help prevent 'sundowning' and that revolve around scenarios."
Work and installations were completed at the Minka through June and early July, prepping the GWEP staff and students for a new semester, as well as for new opportunities working in the surrounding region and beyond. Fournier hopes these new additions will allow for community-driven work, and partnerships with different departments across campus to utilize the technology in the home.
"I'm pretty happy with how it has all turned out, and now the fun starts. Now we can figure out how we're going to use it for different scenarios and piece and pull things together," says Fournier. "Our whole position is doing research and testing of smart home technologies and how people might interact for living in place. Part of the uniqueness of the Learning Lab was to make it an adaptable living and learning space."
To learn more about the Minka and GWEP, or to schedule a tour of the home, visit the USI GWEP website.