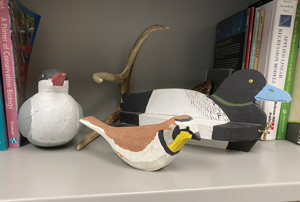 A love of nature, cultivated by his family as he's grown up, has followed Alex Champagne, Associate Professor of Biology, through his life, and  has influenced numerous collections of items in his office, located in the Science Center.
"I've always been interested in nature, so I collected a lot of natural history items as a kid and continue my collection today," he says. "I've hung on to many of these items, and although they don't make for acceptable home décor, I feel that they help communicate my enthusiasm for my work as a biology professor."
This love cultivated during his childhood is thanks in part not only to Champagne's curiosity and affinity for nature, but also his father, who worked as a director of a nature center. Champagne also developed a hobby early in his life of birdwatching, something he still does today (and which drove him to create an ornithology class at USI). At the time, his home contained a lot of nature items from his own as well as his dad's  collections.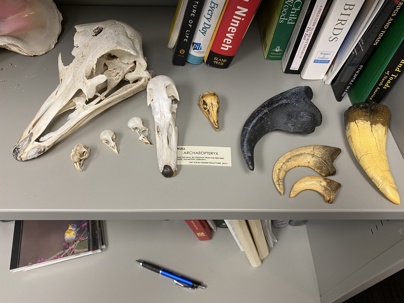 Most of his personal collection from his youth eventually found a home in storage at his parents' home, until a few years ago when they moved. The box then made its way back to its original owner, and Champagne suddenly found himself with a nature collection and no place to put it. "So I brought a lot of it here," he says, gesturing to the various small displays in his office, located in the Biology Department.
Along with objects from his childhood, other items include artifacts he has gathered or obtained during different jobs throughout his career. They include a fully categorized mammal skull collection, small decoys created during previous field research projects and other "odds and ends" he says he's picked up along his professional journey so far.
"I feel it all works really nicely here since I'm a biology professor. There's always students coming in and looking at things," he explains. "They are good conversation starters."
Some of the items work well for Champagne's classes as well. His collection of bird skulls in addition to model Archaeopteryx (an early ancestor of birds from the Jurassic period) skulls are showcased during the ornithology class he teaches every odd-numbered Spring Semester. During his human anatomy class, he likes to show off bones in other animals that humans don't have, such as the baculum, which plays into reproduction discussions. "Or if I want to throw them for a loop in their skull labeling skills, I'll (take one of the animal skulls) and say, 'Hey you know where to find this bone on a human, now find it on a deer skull.'"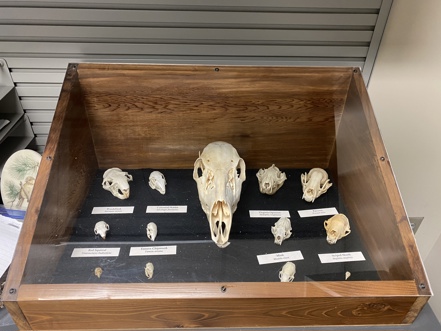 Ask him to pick a favorite piece and Champagne has a simple answer: anything with a story. "There's just lots that I can illustrate as I'm talking to people. Those things that have stories behind them are the most useful, and students can relate to them as we talk," he says.
* * *
Do you have an interesting office collection or items you'd like to share with the USI community? Reach out to University Communications or email Trista Lutgring, Internal Communications Specialist, at tjlutgring@usi.edu.