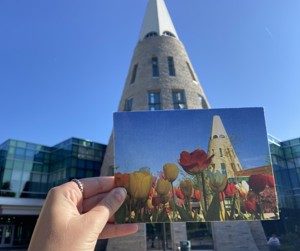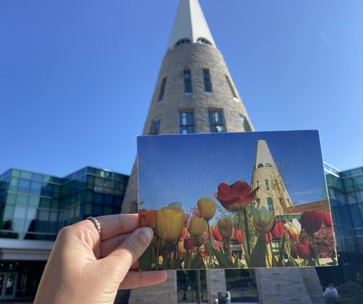 In addition to the many items USI's Creative and Print Services already produces in-house, the department has added two new pieces of equipment—a flatbed UV printer and a T-shirt press—offering countless new capabilities for the University community to take advantage of. 
The flatbed UV printer prints directly on almost any flat surface up to an area of 24 by 36 inches and on objects up to 6-inches tall. The printer is perfect for a variety of signage or specialty applications on materials like plastics, acrylic, glass, canvas boards, tiles, vinyl, metal, golf balls and much more. The printer prints full-color plus white using durable UV light-cured inks. The resulting high-resolution images are suitable for indoor and outdoor use. All yard signs the department produces are now printed on this printer.  
The T-shirt press gives Creative and Print Services the capability to print full-color, vinyl heat transfers to customize various fabric items like T-shirts, throws and blankets, golf towels, canvas bags and more. The graphics department can create custom, full color artwork which can be ordered with the department's online ordering requisition forms. Creative and Print Services can order a variety of fabric items to print on, or inquiring individuals can provide their own items. 
University departments, student and campus organizations/clubs, USI employees and USI students are encouraged to utilize Creative and Print Services' new equipment and capabilities.  
To submit a request, please visit the Creative and Print Services website. For questions, please contact Terri Bischoff, Director of Creative and Print Services, at 812-461-5465, Christopher Norrick, Assistant Director of Operations for Creative and Print Services, at 812-465-1286 or Ashley Carter, Publications Coordinator, at 812-464-1954.  
Fast facts on Creative and Print Services new equipment and capabilities: 
An 18- by-24-inch yard sign takes approximately one minute per side to print on the flatbed UV printer.

 

A bulk order of T-shirts from Creative and Print Services consists of 100 T-shirts.

 

Creative and Print Services staffs three full-time graphic designers. Designs created by the department are always 

professionally

-

developed and 

sprinkled with the perfect touch of creativity and personalization.

 

The flatbed UV printer personalized an aluminum water bottle. As long as the item has a relatively flat surface, it's likely it can be printed on. 

 

Creative and Print Services created a size 5X shirt for Archie!

 
Creative and Print Services sample items photo gallery