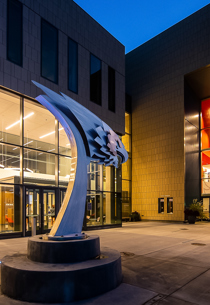 The University of Southern Indiana officially marked the opening of the new Screaming Eagles Complex and Aquatic Center and the reveal of new campus art installation The Screaming Eagle with an open house and campus celebration on Thursday, September 16.
"This is a bold day for the University of Southern Indiana. From here I can visualize exceptional educational opportunities igniting our students' interests, lifelong friendships and memories captured in selfies with The Screaming Eagle, and the athletic achievements and accomplishments earned by our student-athletes as a result of these outstanding facilities," said Ronald S. Rochon, President. "Most importantly, I thank all the people who made these beautiful facilities a reality. It is the people of our community who make this special place truly soar!"
Students, staff, alumni and visitors were welcome to take selfies with The Screaming Eagle, go on guided tours of the new campus buildings and hear remarks from members of the USI Athletics staff, Student Affairs and the Pott College of Science, Engineering, and Education.
View a photo gallery of Screaming Eagles Complex, Aquatic Center and The Screaming Eagle
Screaming Eagles Complex
Screaming Eagles Complex, which is a renovation and addition onto the former Physical Activities Center, serves as the new home for both USI Athletics and the Kinesiology and Sport Department of the Pott College.
The building houses multipurpose athletic courts, a newly-remodeled 6,000-square-foot Athletics Weight Room, a 1,200-square-foot Instructional Performance Center and Human Performance Laboratory, classrooms, lounge spaces and locker rooms for USI men's and women's Soccer, Baseball, Softball and men's and women's Track and Field.
Aquatic Center
The Aquatic Center houses an 8-lane, 25-meter by 25-yard pool and diving well that, beginning in the Fall 2022 Semester, will be the home of USI's men's and women's new Swimming and Diving teams, bringing the total number of intercollegiate athletic programs at USI to 19.
"Swimming and diving is an integral part of youth sports in the state of Indiana and a program we have been hoping to offer for some time now," said Jon Mark Hall, USI Athletic Director. "Our new Aquatics Center will be a perfect home for these new programs, and we can't wait for the USI community to experience it both by attending meets and taking advantage of the pool themselves."
Seating for 190 and professional timing and scoreboard displays make the Aquatic Center an ideal host for duel and regional meets. Outside of competition, the Aquatic Center will be available for open swim to the USI community six hours a day during the week.
The Screaming Eagle
Located outside the front doors of the Arena in Screaming Eagles Plaza, The Screaming Eagle is a 12.5-foot tall, aluminum sculpture depicting USI's athletic logo. Designed by USI Professor Emeritus of Art John McNaughton and Professor Emerita of Art Joan Kempf deJong, the sculpture provides a landmark for USI fans to gather before events in Screaming Eagles Arena and a backdrop for students and alumni to showcase their school spirit in photos and videos.
The sculpture is a generous gift to the University from Terry and Ron '81 Boren and Tim Mahoney.