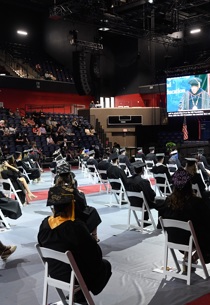 As we arrive at Fall Census and begin to analyze the final data taken from the enrollment count, there are encouraging results and ongoing challenges to report. Exact numbers will be released early next week after the conclusion of Census, but the size and composition of campus has been affected by several factors, including the COVID-19 pandemic and demographic and market shifts which have affected higher education as a whole.
All told, USI will see an overall decline in enrollment and credit hour production. A decreasing number of undergraduate continuing students resulting from smaller incoming freshmen classes in the last few years has had a significant impact on our overall headcount, even with retention rates holding steady.
Despite the decline, there are several points of positive change that reflect the fruits of hard work done over the past year. For the first time since 2017, there will be an increase in the number of first time freshman students on campus, as well as in the number of first time transfer students since last year. Graduate Studies will also report a year of growth, with more students than ever opting for accelerated and online programs.
With both areas of concern and strength in mind, here are some insights into enrollment information to consider when looking ahead to 2022 and beyond:
Undergraduate
More students are entering college with credit earned in high school, which means they require fewer credit hours to graduate and are better equipped to succeed when they arrive. Empowering student success is a core reason we are here, and students are graduating at greater rates than ever before in our history. If incoming classes are smaller than graduating classes, as has been the case over the past several years, the overall headcount of the University will reflect that change.
Applications for the incoming class were down 8% over the previous year, a trend echoed by universities across the entire state and region. Even with the reduction in applications, USI was able to grow the size of its incoming class as students saw areas of opportunity emerge close to home. The percentage of students from Vanderburgh County and the surrounding Indiana counties who chose USI over other colleges increased over the past year.
Graduate
For Graduate Studies, this will mark the sixth-straight year of setting a new record for the number of graduate students at USI and a continued demonstration of the attractiveness of accelerated and online programs. These programs expand access to a wider range of potential students, including adult learners and those outside of our traditional geographic area. For Fall 2021, nearly 33% of graduate students are either from out of state or are international students, and 80% of them are over the age of 25.
Access to online and accelerated programs for graduate-level education is the most prevalent modality for both students nearby and those who are geographically distant from campus. Ninety percent of all graduate students will be taking classes in exclusively online programs, including programs in collaboration with Academic Partnerships. Additionally, more than 82% of the graduate students from Vanderburgh and neighboring counties are taking exclusively online coursework.
Looking Ahead
The decrease in campus enrollment cannot be attributed to one singular factor. As seen above, even with fewer overall numbers, several areas (first-time students, transfer students and adult learners) have seen improvement as a result of direct and intentional efforts by the University.
As more adult learners are joining our student body, resources like the Center for Adult Learner Success become central to making sure we nurture those students and meet their needs. The changing population of the Midwest will make it more important than ever that we uphold our mission of providing exceptional education to the state of Indiana, and access to accelerated and online programs is increasingly part of upholding that mission.
With the implementation of the 2021-2025 Strategic Plan: Accelerating Impact taking these factors to heart, USI is purposefully making these areas points of focus moving forward. As the institution adapts and evolves to meet the challenges of a changing higher education market, these points of focus will help us clearly see ways we can both best serve our current and future students and ensure the long-term health of the University.