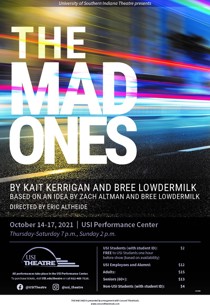 USI Theatre is proud to open its 2021-22 season with a return to live performances!  The first production of the season, The Mad Ones, is a new musical written by Kait Kerrigan and Bree Lowdermilk and directed by USI Associate Professor of Theatre Eric Altheide.  The production runs from October 14-17 in the USI Performance Center located in University Center East on the USI campus.
Concord Theatricals, the producing company of The Mad Ones, writes: "Eighteen-year-old Samantha Brown sits in a hand-me-down car with the keys clutched in her hand. Caught between a yearning for the unknown and feeling bound by expectation, she telescopes back to a time before her world had fallen apart. As she relives her senior year, we meet Sam's well-intentioned helicopter mother Bev and her high school sweetheart of a boyfriend Adam, but it's her painfully alive best friend Kelly that haunts her. Kelly was everything Sam is not – impetuous and daring. She pushed Sam to break rules and do the unexpected. When Kelly is killed in a car wreck, Sam loses not only her best friend but also the part of herself that was learning to be brave. Now, Sam has to make a decision: Will she follow her mother's dreams for her, or will she summon the courage to drive away from her friends and family into a future she can't imagine?"
Altheide is joined by a design team including USI faculty member Paul Weimer as scenic designer; USI staff members Joshua Stallings as sound and lighting designer, Shan Jensen as costume designer and Andy Hammond as technical designer; Patrick Ritsch as orchestra conductor; and USI students Cole B. Henrich as choreographer and Amelia Schmitz as production stage manager.
The cast of The Mad Ones includes USI students Evelyn Pigman, Clare McGregor, Grace Koltz, Nate Jenkins, and understudies Madalyn Cottrell, Blair McKown, and Gavin Carter.
Tickets are $2 for USI students, $10 for USI employees and alumni, $4 for non-USI students with student ID, $10 seniors (60+), and $12 for adults. Tickets are FREE to USI students with ID one hour before the show begins based on availability. Shows start at 7 p.m. Thursday through Saturday and 2 p.m. for the Sunday matinee. To purchase tickets, or for more information, visit USI.edu/liberal-arts/usi-theatre or call the Box Office at 812-465-7110. Follow us on Facebook at USITheatre and Instagram @USI_theatre for updates and photos.
Tickets are also now on sale for the rest of the 2021-22 season. Join us for A Christmas Carol, adapted and directed by USI Professor of Theatre Elliot Wasserman, from November 18-21, 2021. The first show of the Spring Semester will be Stop Kiss by Diana Son and directed by Altheide, running from February 17-20, 2022. Our final show of the season will be William Shakespeare's Twelfth Night, which will run from April 21-24, 2022. For more information on the remainder of the USI Theatre season visit USI.edu/liberal-arts/usi-theatre or call 812-465-7110.