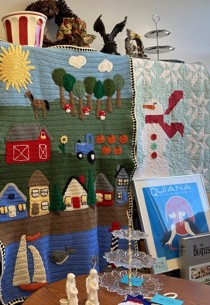 The seventh annual Administrative Assistants and Associates (AA&A) Scholarship Auction, beginning Monday, November 1 and available to view on the AA&A website through 9 p.m. Wednesday, November 10, will fund student scholarships and feature over 100 items to bid on. Items ranging from jewelry, USI apparel, artwork, crafts and even lunch with Dr. Rochon will be up for bid with all proceeds donated to AA&A Scholarships. The USI community as well as the general public can bid on auction items. 
Since the annual Scholarship Auction's start in 2014, including a break due to the pandemic in 2020, it has raised over $8,000 in scholarship funds. In order to apply, students must meet the following criteria: 
Full-time undergraduate student one semester prior to applying

 

Full-time undergraduate student when scholarship is awarded

 

3.0 GPA

 

Have a need for financial assistance; however, may be receiving other financial assistance

 
 Winners will be notified November 11, and the pick-up and pay day is scheduled for November 16 in Health Professions 2068. 
"We are really excited the Scholarship Auction is returning this year. You can see all the wonderful items online—bid high, bid often," Kimberly Sullivan, Administrative Assistant and Associates President and Advising Associate for the College of Nursing and Health Professions, says. "We appreciate the support of the USI community in our fundraising efforts to make a financial difference in students' lives." 
AA&A reminds individuals although all proceeds go to scholarships, no portion of the winning bid will be tax deductible.  
More information on AA&A 
AA&A, the oldest, active organization on campus with over 50 years of service to the University, is an organized endeavor to build unity within USI for employees, learn ways to improve professionally and establish an endowed scholarship for students.  
The organization holds four meetings per calendar year, one per quarter. The next two events for members are scheduled for November 17 and January 27. Interested USI support employees can join AA&A by emailing Jessica Adler, AA&A Vice President and Senior Administrative Assistant for Finance and Administration, or calling 812-464-1849.