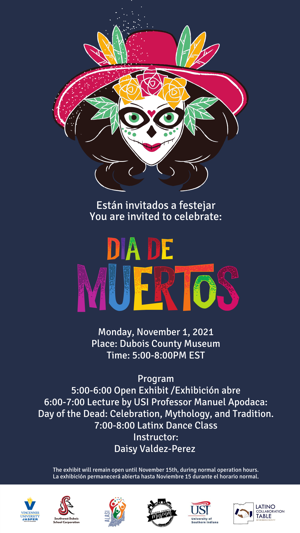 To celebrate the traditional holiday of Dia de Los Muertos and to help educate the community, Dr. Manuel Apodaca-Valdez, an Associate Professor of Spanish, has been invited to speak at the Dubois County Museum in Jasper, Indiana, on Monday, November 1. 
"The museum's director, Shirley Ray, saw the need for reinforcing identity and inclusion among the Latinx community in Southern Indiana and invited me, along with other local leaders, to support this goal," says Apodaca-Valdez. 
A task force team was formed to address this goal, and applied for a state grant in August, says Apodaca-Valdez. Their efforts have resulted in the museum recently being awarded an Indiana Humanities grant. Among various culture activities, the Dubois County Museum has planned its first celebration of the Day of the Dead and invited Apodaca-Valdez to be the guest speaker. His presentation, "Day of the Dead: Celebration, Mythology and Tradition," is bilingual and aims to reinforce Hispanic identity within the framework of the cultural and historical signification of the Day of the Dead. 
"I am glad to serve as a USI outreach contact for events that foster cultural awareness and diversity in the region," says Apodaca-Valdez. "Recently, thanks to OPRA's Chief Data Officer Dr. Kat Draughon, a Qualitrics survey was uploaded that will help the Dubois County Museum gather data from Latinx people about race and place."
The event begins at 5 p.m. EST and will also feature an open exhibit and Latinx dance class. The Dia de Los Muertos exhibit will remain in the Dubois County Museum until November 15 during normal operating hours.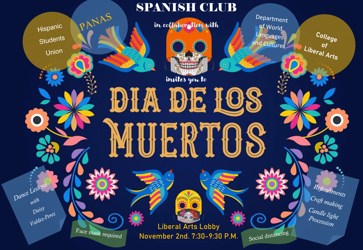 But Apodaca-Valdez's efforts do not stop with the museum; he also is a part of the efforts of the USI Spanish Club, along with the Hispanic Students Union PANAS, Department of World Languages and the College of Liberal Arts, in hosting a celebration of Dia de Los Muertos on campus. 
"The Day of the Dead has been a beloved topic to me since I became the main organizer of this event on USI's campus in 2010," says Apodaca-Valdez. "My interest and expertise has increased to the extent where I can conduct cultural and academic presentations about the topic at local, national and international forums."
The University community is invited to the event to partake in dance lessons from Daisy Valdez-Perez, craft making, a candlelight procession, refreshments and more. The event is set for 7:30 to 9:30 p.m. Tuesday, November 2 in the Liberal Arts Lobby.