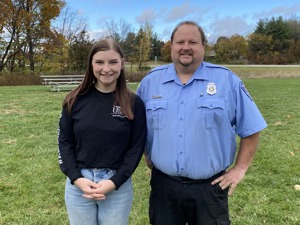 When Ellie Conley showed up for Rugby practice on a sunny fall afternoon, she had little idea what was in store for her and the rest of the team. Just after 4 p.m. on Wednesday, November 10, a vehicle careened off the eastbound off ramp of the University Parkway coming to rest precariously on its side across the fence from the USI Rugby Field.
Conley, a senior USI Nursing major, and her teammates ran toward the accident, scaling the fence to get to the scene. She says it wasn't what she saw at first as much as it was what she heard—the sound of a child crying from inside the vehicle. Conley, her teammates and several others who had stopped on the highway were able to help the child out of the car and to safety. Players sat with the child and comforted her. The mother, however, was still trapped inside the car and experiencing some type of medical emergency.
It was then Conley realized the seriousness of the situation. The car was balanced on its side at the top of a steep embankment and in danger of rolling back down. By now, several of those stopped had positioned themselves to brace the vehicle and prevent it from moving. Conley says she knew what she had to do, she had to get to the woman in the vehicle to render aid. Climbing through the rear hatch, she made her way up to the front of the car and began to evaluate the patient, drawing from her years of nursing training and having just come off an 8-week rotation in emergency room and acute critical care training.
"First aid came naturally to me," she says. "We do a lot of real-life scenarios in the Nursing Program, and it helped to revert back to what was ingrained in me. I'm just grateful to the nursing professors who ingrained everything into me, so I didn't have to think about it in the moment. There wasn't a lot on my mind except my first aid training and a big rush of adrenaline."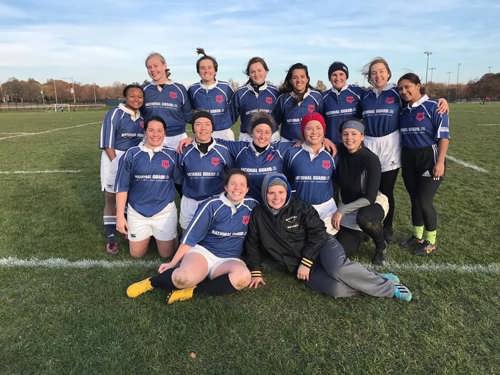 Conley did an evaluation of the patient and began making sure she was in a stable position and her airways were clear. That's when she heard a familiar voice. One of those who had stopped to help was Dr. Greg Mendel, USI Instructor in Biology and a chiropractor, who helped to coach Conley in making sure the woman's neck and spine were supported. Conley, who'd had Mendel as an instructor years earlier, says it was comforting to hear that voice.
Mendel, who's own stepson, Aidan Mercer, was in a serious car accident earlier this summer, had run to the scene, knowing it was those first few moments of care that had saved his son's life after his accident. "After seeing what my son went through and knowing that sometimes the first one there can save a life, I knew I needed to throw myself in there and help in any way I could," he says. He wanted to get into the car to help but seeing the situation, and that Conley was already inside, he knew the best thing he could do was help her. Seeing the woman was ok, Mendel helped others stabilize the vehicle. "I was very proud of her," he said. "She was obviously very well trained. It was great to see the USI community come together and help like this."
Conley says around this time, she finally looked around and saw how precarious her situation was. She saw the passenger window above her, felt the rocking of the car and admits she was scared. "It scared me, but I knew that little girl was scared too, watching her mom in there, and I decided I was going to be the one there with her until others arrived."
Help did arrive quickly—USI Public Safety Officers Nathan Devillez and Matthew Gabrielli were the first emergency personnel on the scene. Their first response was to brace the vehicle and get the bystanders out of the way in case the car did move, fearing someone might be crushed if it fell. When Devillez found out Conley was inside rendering aid, he asked if she was comfortable being in that situation. She was and advised him the patient was unconscious but breathing and that she was "holding C-spine," a cervical spine stabilization technique used in the field.
"The vehicle was very unstable, so I stayed just inside the rear and communicated with the student inside," says Devillez who has been a Public Safety Officer for four years and a firefighter and EMT with Perry Township for 19 years. "She took a big risk going in there."
When the woman woke up she started moving around, destabilizing the car even more. Perry Township Fire Department arrived and used stabilizing jacks to secure the car. "Once the patient was conscious, the nursing student did an amazing job of keeping her calm until we were able to get her out. She stayed with her the whole time, and I was just a liaison," says Devillez, who helped pass medical instruments to Conley, including a neck stabilizing pillow and a pair of shears she used to cut the seatbelt off the woman and help free her airway. Conley was also able to help him get the seats folded down inside to aid with extrication. 
"We do this kind of work because we're trained to do it and we've been in situations like this before. Ellie's never been in a situation like this and that was impressive. She went above and beyond anything she needed to do, and she stayed calm the entire time. She went into a car on its side that was not stable and did it knowing she was putting herself in danger. That's a true testament to who she is as a person."
With the patient and vehicle secured, members of the Perry Township Fire Department took over and Conley was able to crawl safely out of the vehicle. The woman was successfully removed and transported to the hospital for evaluation and treatment.
Conley could have ended her involvement there but instead moved to the daughter who was still with her teammates nearby. "I braced her a little bit for what was happening, comforted her and steered her away from watching as her mother was being removed," she says.  
Now that some time has passed and she's had a chance to decompress, Conley says the experience has reinforced her decision to become a nurse. "I liked the feeling of having the right knowledge and being able to do something productive with those skills," she says. "I also enjoyed working in a medical scenario with other medical professions. It was a good experience to see first-hand what it takes to work with a team in a situation like this. It reinforced that I've chosen the right field."
Conley, an Indianapolis native, is set to graduate in May and hopes to pursue a hospital career in medical surgery.