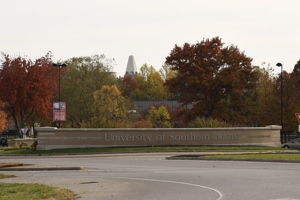 When classes began on campus this fall, many students, faculty and staff may have noted a change in several department names across the University. One of those changes affected the Counseling Center, a department and space on campus open to students seeking assistance for a variety of reasons connected to their mental health. Now referred to as Counseling and Psychological Services (CAPS), the name change more clearly defines the purpose of the department.
"Also this new title better aligns with university and campus standards across the country," says Robin Sanabria, Director of CAPS. "The hope is that the name change will help facilitate access and decrease confusion."
What is it that CAPS brings to our campus community and the lives of USI students? In general terms, it is still what is described above—a department providing services to students seeking assistance. But those in CAPS work deeper than that, with a goal of promoting mental health awareness across campus and normalizing seeking assistance or help if needed.
CAPS services are available to all enrolled students at USI, including undergraduate and graduate, part time and full time, on-campus and online/commuters and traditional and non-traditional. Counselors welcome in students for a number of issues including, but certainly not limited to, those listed above along with trauma, identity issues, sexuality, relationship stress, intimate partner violence, family difficulties, suicidality and more. The team is available for urgent and emergency appointments during the week in addition to regular office hours, and all are licensed providers who follow evidence-based treatment practices.
And while most may believe CAPS only provides individual therapy sessions to students who visit. That couldn't be further from the truth.
"CAPS also provides group therapy, couples counseling and psychoeducational groups," says Sanabria. "Services are available in-person and on telehealth, which is conducted through a secured Zoom account."
One such telehealth service is TalkCampus, an anonymous, 24/7 social media platform monitored by mental health professions. "It provides USI students an opportunity to reach out to other college students across the U.S. and the world to receive support," says Sanabria.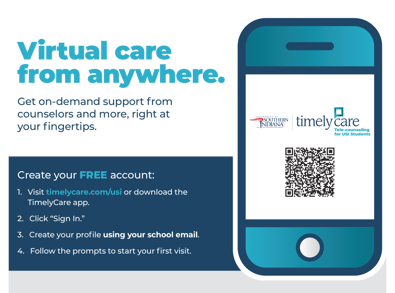 At the end of November 2021, CAPS will add another online service to its toolbox for students: TimelyCare, which will allow USI students to access on-demand mental health support, as well as appointment-based mental health telecounseling and health coaching from licensed physicians and counselors in all 50 states, at no cost to the student.
"This service provided will extend our geographical footprint and available service hours by utilizing professional mental health therapists and services for USI students no matter where they are located across the U.S.," says Sanabria.
Through an app on their smartphones, USI students can chose a virtual care option that fits best for them, whether it is a one-on-one appointment about stress or depressing or health coaching to help with nutrition and establishing a healthy lifestyle.  
Also, students never have to worry about their privacy when it comes to seeking help for their mental health. CAPS truly is a safe space for them to talk to professionals and help resolve their issues without fear of judgement or exposure to fellow classmates.
"We protect the confidentiality of our students, and if a student wants us to advocate for them, we can disclose information only with a student's written permission," Sanabria explains. "And as it relates to Title IX, we are confidential employees, meaning we are not required to report any information about an incident of harassment/misconduct without the individual's permission."
Sanabria and her team (including Assistant Director Aaron Pryor and Staff Counselor Jacob Hartz) have hopes and goals of expanding services (starting with the TimelyCare program), creating a new look for CAPS online and furthering the department's presence on campus. While CAPS is working on the first two goals, Sanabria says faculty and staff can assist in the getting information out to the internal community and students across campus.
"Post our flyers on bulletin boards, share our social media posts and links to our website," she adds. "Reach out to CAPS for input on students' mental health not just with individual students but with outreach event programs, program development, department processes, procedures and projects.
"We want to be a member of the team to promote mental health awareness throughout every aspect of our University community as it impacts the lives of our students," says Sanabria.
To learn more information about CAPS, schedule appointments or find contact information, visit usi.edu/counseling-and-psychological-services.