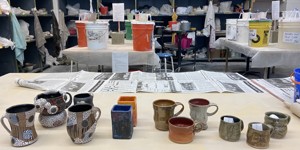 You can buy a 40-count set of plastic cups on Amazon for $8.99. So why look elsewhere or make them yourself, you ask? Because when you know the process and the inspiration behind why products are made in a particular way, you gain a new sense of appreciation. "It's about the uniqueness of the experience, it's about them [cups] being made for a specific person, or maybe tailor-made for a specific beverage or time of day," Associate Professor of Ceramics Alisa (AL) Holen explains. "I have different cups I like to use for morning coffee compared to evening tea. Those are different experiences where I'm thinking differently, and I like certain cups for those types of things." 
Though there's an extensive process tied to the creation of your own usable, personalized utensils, it's one Holen greatly appreciates and encourages students in her ceramics courses to embrace. The start-to-finish process involves making, drying, bisque-firing, waxing, glazing and finally, glaze-firing. The entire cycle for a singular piece takes an average of two to three weeks to complete.  
This process is lengthy, but for four students in varying levels of ceramics courses, it has led them to the opportunity to exhibit their pieces at a nationally-recognized exhibition—Filled Up 2: A Ceramic Cup Show, the second annual juried cup show on display now through December 18 at the New Harmony Gallery of Contemporary Art (NHGCA). The exhibition, juried by award-winning ceramic artist and Area Head of Ceramics at the University of South Carolina Virginia Scotchie, is giving USI students Cole Collier '22, Elizabeth Garland '22, Heather Gomer '23 and Lisa Ryan-Hutton, along with Holen, the chance to have their work recognized on a national level, as well as the satisfaction of adding a significant accolade to their ever-growing resumes. 
Following last year's first-annual virtual Filled Up exhibition, students are thankful for the opportunity to display their pieces in person—an experience some have had before, while others will be displaying their pieces in front of visitors for the first time. "This will be the first show we've had an actual opening for, so while I've been able to go and see a show, I've never been able to stand in a room with my peers, friends and family," Collier says. "This is pretty special."  
Here's what the five have to say about the inspiration behind their featured pieces:
Cole Collier

"The surface design on these cups has been the end product of a couple semesters worth of research. I really enjoy environmental firing, which is typically an atmospheric-firing process, opposed to a gas process. Those, however, are extremely hard work. They take a long time to set up and fire and are very work-intensive. What I sought out to do was recreate some of those same surfaces but fired in a gas kiln which take far less work and are far more efficient. Most of my pieces have ash applied to them right before they go into the kiln—it's actually ash that I get from Pangea, the wood-fired pizza place here in Evansville. They fire their pizza on a lower temperature than what we fire our kiln, so it leaves all the good melty bits of ash." 
---
Elizabeth Garland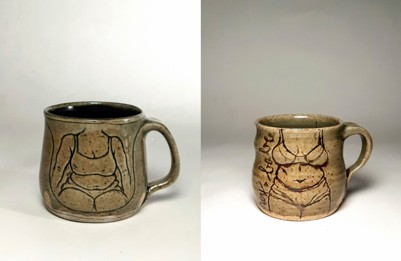 "Before I knew ceramics, I did figure drawing, so that's my background. All the bodies on my cups are self-portraits. I used to hate doing self-portraits, but I had to do them all the time for classes, so I kept doing it and thought, 'Eventually, I'll love this.' I really do love it now. I think my portraits really relate to pottery—the curves of a mug are soft, and all the lines of my mug are soft, which goes along with the body."
---
Heather Gomer

"The inspiration behind the left piece, which I call 'Harmony,' is based on my relationship with my partner. Even though we are two completely different people, we fit together perfectly. He is supportive of me in all aspects of my life. The inspiration behind the middle piece, 'Dragon's Breath,' is based on the obstacles and distractions that we face on our journey through life. Sometimes, instead of beating ourselves up, we need to find that inner dragon and breathe fire toward those things so we can continue on our paths. The right piece, 'Beyond Basic,' is inspired by the fact we are all different, and that fact is okay. We should celebrate our uniqueness and be okay if we stand out from others because of it. I wanted people to know it is a joyous occasion to not be made from the same cookie cutter as everyone else." 
---
Lisa Ryan-Hutton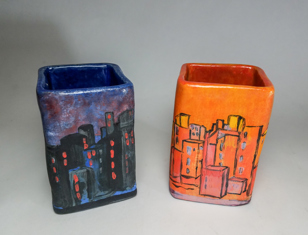 "This semester, I have been focused on the relationship between architectural elements and vessels. I like to examine those relationships. I chose the Chicago look and feel because I'm from Chicago, and I liked the idea of the blues at night contrasting with the bright oranges that come up at sunrise. 
AL Holen is my inspiration. She is the reason I'm doing this. Her mastery for the craft is inspiring." 
---
AL Holen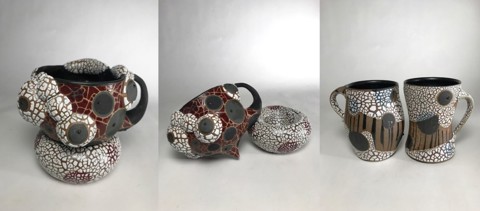 "There's a cup I did, and it's called 'Couple Cups,' and it's two cups that work into each other. That really came to me during the pandemic and isolation. My husband and I love each other like crazy, but we don't get much time together because I'm generally here [in the ceramics studio on campus] 12 hours every day. During quarantine, we got to spend a lot of time together, and it was really lovely. Things came down to just the two of us, so I made a lot of cups that were in couples.  
Most of my work is about relationships and their different dynamics. Are they comforting? Are they abrasive? Are they elevating? Are they restrictive? Those questions guide my visual vocabulary. We do everything with other people, and relationships are really important to me and my work." 
---
Next time you're in need of new utensils, ditch the Prime shipping, and support individuals like Collier, Garland, Gomer, Ryan-Hutton and Holen who put their individuality, experiences, time and effort into the pieces they create. There's something special about handmade items, and you might even find a new glimmer of appreciation for the things you once overlooked.
Sneak a peak of the last wet clay day of the Fall Semester on TikTok.
This feature was written by Kaylee Johnson, Graduate Assistant in University Communications.