Lawrence Library to feature art, coins; collaborate with University of Evansville and Evansville Museum for 2021-22
Lawrence Library to feature art, coins; collaborate with University of Evansville and Evansville Museum for 2021-22
11/8/2021 |
University Communications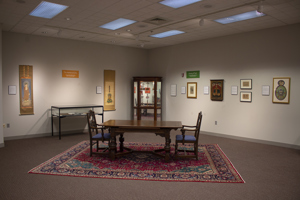 The University of Southern Indiana John M. Lawrence '73 Library will have four exhibits on display and open to the public for the 2021-22 Academic Year:
Classical & Medieval Numismatology presents a survey of antiquarian coins, and is a collaboration between USI,
Ancient Clay: Vessels from the Past will showcase clay vessels, ranging from 600 BCE through the 8th Century CE.
Goya: A Cultural Commentary features the work of Spanish artist Francisco de Goya y Lucientes, specifically work from the late-18th and early-19th centuries, and shares his observations of the ills of Spanish society and the devastation of warfare in his homeland.
Piranesi: Antiquarian, Architect, Printmaker showcases the work of Giovanni Battista Piranesi and how his architectural dreams came through in his other artistic pieces.
The Lawrence Library exists to educate and inspire the members of the University community and the surrounding region through exhibition, research, and preservation of its collections of historical and artistic manuscripts and artifacts.
The Library is located in the lower level of the Liberal Arts Center on the USI campus. It is open to the public from 2 – 4:30 p.m. on Tuesdays and Thursdays. For more information, visit the Lawrence Library page on the USI website.