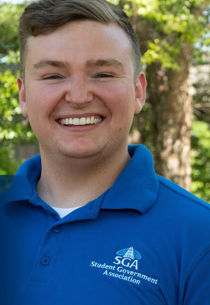 David Bradley, a senior accounting major, has been chosen as a Kennedy Law Scholar, a scholarship awarded by the Indiana University Robert H. McKinney School of Law. He is the first University of Southern Indiana student to be awarded the scholarship.
A native of New Haven, Illinois, Bradley chose USI as his undergraduate university because of the people and campus, but also because of its positive learning environment and affordability (Bradley discussed his connection to campus more in his segment of USI's The College Tour episode!). "It was apparent to me that the individuals who are a part of USI's community take pride in the school and the campus," says Bradley. "I just had a good gut feeling about the place."
The Kennedy Law Scholar award is the law school's largest scholarship and was established in 2004 in honor of U.S. Supreme Court Justice Anthony Kennedy, who delivered the keynote address at the dedication to Lawrence W. Inlow Hall in 2001, which houses the McKinney School of Law.
As an accounting major, Bradley says he never honestly considered a career in law. However, an internship with the Indiana House of Representatives helped him see how this career is used in our society and piqued his interest in the field.
"Thanks to USI's flexibility and commitment to experiential learning (and USI's Career Services as they helped me prepare my resume and potential interview questions), I was able to land the internship. I saw the good and the bad side of law. I know the explanation sounds basic, but those factors helped light a fire of passion in me for law," says Bradley. "After some serious thought and prayer, I reached out to Dr. Jill Oeding, Associate Professor of Business Law, about my interest. She helped me realize that, although the decision was mine, law may be a good field for me to pursue."
Once he had settled on the decision, Oeding continued to help guide Bradley in his new path by connecting him with a local judge, who took Bradley on as an intern in Spring 2021. For Bradley, this internship solidified his decision to pursue the subject and set him on a path of LSAT preparation and, eventually, applying to law schools.
"I have not completely formulated a solid plan for what I want to do after I graduate from McKinney Law School. However, as a Christian, I do know that I would like to be in a role where I can serve Jesus by serving others," says Bradley. "Whatever that looks like, I want to be making a difference to make our nation and our world a better place to live for everyone. This is my broad goal and I'm sure experiential learning through my law studies will help narrow down what exactly I want to do with my degree."
To be considered for this prestigious award, applicants must have a minimum of a 3.65 cumulative undergraduate grade point average and a 162 LSAT score. Recipients are selected by the law school's scholarship committee.