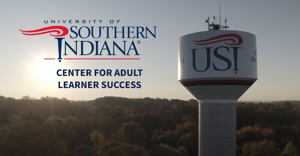 Watch from an introduction video of the staff of CALS on the work they do, as well as from USI faculty and students, in this introduction video here. 
The campus of a university is made up of a variety of students—those who are traditionally starting their college journey right after high school; those who come to further their careers; those getting a late start or raising children and want to find a way to forge a path into higher education that works with their schedule.  
USI prides itself on being a campus with educational opportunities for all students, no matter their background or age. And the Center for Adult Learner Success (CALS)—the result of a $2.5 million grant through Lilly Endowment Inc. awarded to USI in 2020—is an important piece of that goal. CALS was formed as an innovative infrastructure for adult learners to obtain additional education credentials through both credit and non-credit instruction.
What does an adult learner look like at USI? While there is no one-size-fits all approach for adult learners, CALS recognizes that an adult learner will likely identify with at least one of the following situations: they are 25 years or older, returning to school after a two-plus year absence and/or they have dependents of their own. But how can CALS help USI's adult learners and why is such a resource important in the fabric of the University?
"Historically, adult learners have been an underserved population in terms of higher education, a realm often focused on students entering immediately after high school," says Kristie Byrns, Director of the Center for Adult Learner Success. "There are many people who don't follow this linear path, so having a center specifically for the adult learner aids in accessibility and support. With the implementation of CALS, USI strives to promote equity among students of all ages and increase access to a quality education."
Beyond being just a point-of-contact for non-traditional students, the CALS program looks to dive deeper and enrich the experiences of these students, and ensure they are getting the most out of their USI experience.
When it comes to being an adult learner, their lives often are a balancing act that is far different than that of a traditional student; so, it stands to reason that the assistance they would need as they pursue higher education would be different as well.
"Higher education can be a very intimidating process to navigate on your own, especially if you've been out of school for a while," says Byrns. "We're here to demystify the higher education landscape for them."
Adult learners may also feel the most disconnected from campus life and culture. CALS works to bridge this gap as well, working with different programs to forward requests and facilitate conversations on what adult learners need to find their place in the USI community.
Since being incorporated into USI in the Fall of 2021, there's a lot that's been accomplished by Byrns and her CALS group. First off, CALS has its own dedicated office space on campus, located on the third floor of the Health Professions Center, which helps the staff provide a central point for contact. This contact extends beyond adult learners—faculty, staff and leadership throughout the University can also connect with CALS on how to best serve non-traditional students.
"We think CALS' presence on campus is helping to spark conversations that may not have been considered otherwise," says Byrns. "We're working closely with many units on campus to assess recruitment and retention strategies for adult learners."
As "support specialists," the CALS' staff has started with the immediate goal of streamlining the admissions process for adult learners, making the first step toward attending USI easier. Other important moves the Center has made have been meeting with leaders on campus, including directors of online-based academic programs, to help expand offerings, and reaching out to students who have stepped out of the University, informing them of support available through CALS as well as programmatic updates and opportunities.
One aspect CALS wants to make clear is that rather than creating its own curriculum for adult learners, staff works collaboratively with academic departments across campus to enhance existing offerings to support current workforce needs. In the end, it's about connecting students with resources—both at the University and in the community—that provide them the greatest chance for success.
"We are working with both USI faculty and local businesses and industries for the common goal of addressing the changing needs of Indiana's workforce," says Byrns. "The Center strives to upskill the local workforce while connecting the regional community to USI."
With a Fall Semester behind them and a Spring Semester almost in the books as well, Byrns and her staff hope they are making a lasting impact on the University and in the community. Though there are certain outcomes required by the Lilly Endowment grant that the Center is expected to make each year (employer partnerships, academic programs aligned with regional skills gaps and adult learner enrollment to name a few), the staff also are working to go beyond the scope of the grant.
"Through the Center, we aspire to change the lives of individual adult learns and local businesses for the better," says Byrns. "Many of us on the CALS staff are adult learners ourselves, so we understand personally the impact our work can have on students at USI."
For more information on the Center for Adult Learner Success and to meet their staff, visit usi.edu/center-for-adult-learner-success.