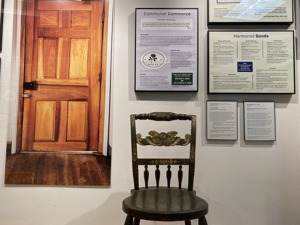 "Devout & Disciplined: Harmonists in New Harmony, 1814-1824" is currently on display in the McCutchan Exhibition Space located in the Wright Administration Building. 
This exhibition shares the continuing story of religious separatists seeking refuge in America from the strict formation of the German Lutheran Church. After establishing a community in Harmonie, Pennsylvania, the Harmony Society moved to Southern Indiana in search of more land to accommodate a growing religious community, navigable waters to expand commerce and a climate friendly place to do the work of a vinedresser in a vineyard. Johann George Rapp, preacher and vinedresser from Iptingen, Germany, led the Society both spiritually and administratively. The Harmonists lived a devout and disciplined life building their community as they waited for the imminent return of Christ.
The "Devout & Disciplined" exhibition presents an overview of the Harmony Society's history, building the town, experiencing living in community, conducting commerce and ultimately leaving for Economy, Pennsylvania. Since The Harmonists referred to their town as Harmonie, this exhibition uses New Harmony to avoid confusion with the first settlement, also called Harmonie.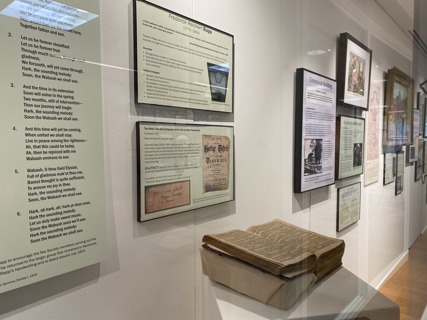 The USI community is invited to visit and explore the richly historic town of New Harmony through this display. Featured in the exhibition are art, artifacts and manuscripts from the collections of Historic New Harmony, The Working Men's Institute, Museum & Library and the University Archives & Special Collections.
A special thank you to the historic interpreters of Historic New Harmony for contributions to the Interpreter's Interpretation notations found throughout this exhibition.