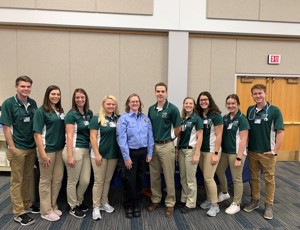 Provided by Taylor Gogel, USI Foundation Assistant Director of Development
As an employee, you get a front-row seat to the University's success. You work diligently toward goals, deliver on the promise of the USI mission, help colleagues and allow students to flourish in their studies. What a remarkable opportunity we each have in this journey.
At the USI Foundation, we recognize the tremendous contributions of employees. This is why each year every employee is invited to invest in the transformational power and value of a higher education at our University. It may sound cliché, but it truly is not about the amount of your charitable gift. What matters is the thoughtful choice to further your impact.
Take for instance the story of fellow employee Tami Jaramillo Zuniga M'12. You may recall her story in October 2019 about respiratory therapy graduates saving her life. She realized how her annual payroll deduction gift is not only a simple act of gratitude but a dedication to the work we do.
Our collective work deserves your investment—your time, energy and talents are all valuable, and your financial gifts are no different. Our story as a University has always been about community. We each share in success, we each share in struggle, but we each ultimately share in celebrating the driven spirit of students attainting a higher education.
The USI Foundation invites you to demonstrate the remarkable achievements possible when individuals are dedicated to a common cause. When we work together and give together, we continue to bring out the best in USI and our entire campus community. Everyone reaps the benefits.  
Watch campus mail for more information on giving. You can also make your gift securely online at USI.edu/giving. If you have questions about making a gift, contact Taylor Gogel at tjgogel@usi.edu or 812-461-5473.