USI Student Government Association announces 2022-2023 election results
USI Student Government Association announces 2022-2023 election results
4/28/2022 |
University Communications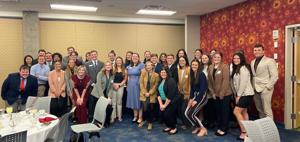 On Thursday, April 21, the students elected to serve the USI Student Government Association (SGA) for 2022-2023 took office at their inauguration meeting and dinner.
The students elected are as follows:
Executive Board:
President: Teagan Garner
Executive Vice President: Brayden Webster
Attorney General: Carly Cato
General Assembly:
Administrative Vice President for Diversity, Equity, and Inclusion (new addition to SGA): Adrianna Garcia
Administrative Vice President for Recruitment: Georgia Sites
Administrative Vice President for Environmental Protection: Chase DeBruyn
College Representatives for Pott College of Science, Engineering, and Education: Kolton Wirey and Garrett Barnes
College Representatives for College of Nursing and Health Professions: Sydney England, Danielle Gries, Katelyn Devers, and Treasure Nickelson
College Representatives for Romain College of Business: Preston Coots and Hayley Sink
College Representatives for Liberal Arts: Jenna Malone, Anna Maria Pittman, Chase Forston, Catalina Baker, and Kyla Bower
Member-At-Large for Graduate Students: Nohemi Chumacero Mancilla
Member-At-Large for Commuter Students: Thomas Kautzman and Hayley Kueber
Member-At-Large for Panhellenic Council: Kealie Hood
SGA is a student-led government body designed to serve the students of USI by promoting ideas and representing student opinions to University administration. The body also sponsors programs and provides services to students during their time at USI.