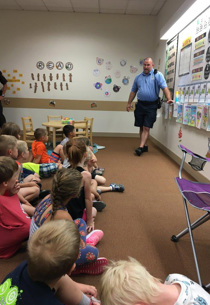 The University of Southern Indiana Summer Enrichment Camp (SEC) will be offered to children entering kindergarten through grade six (based on the grade they will enter in fall of 2022). Camp will begin on May 31 and will run through July 29.
SEC offers an environment encouraging children to develop their capabilities and interests at their own pace based on individual needs. The program recognizes the uniqueness of children and provides positive encouragement for their continued growth while having fun.
This year's SEC activities will include crafts, games, on-site opportunities (utilizing the entire campus) and more. Enrichment experiences will be offered in the categories of art, science, fitness, technology and other interests  staff will bring to camp. Every activity will be tied to a weekly theme communicated to families who are participating in the camp.
Full-time and part-time spaces are available, but priority will be given to families requiring full-time, full-summer care.
Total  SEC fees for all USI employees and students are:
Full-time (Monday-Friday): $1,297.05
Part-time (three days/week): $992.52
Part time (two days/week): $753.28
Total SEC fees for community members (non-USI employees) are:
Full-time (Monday-Friday): $1,386.50
Part-time (three days/week): $1,035.76
Part time (two days/week): $800.36
A $60 pre-enrollment fee is required and can be paid online through this link: https://secure.touchnet.net/C21706_ustores/web/store_main.jsp?STOREID=25 
Enrollment information can be found here: https://usisurvey.az1.qualtrics.com/jfe/form/SV_3ry2iZKxtZXq2JU
For more information, to enroll your child in SEC or  regarding childcare for younger children, contact Dr. Rob Carroll at 812-464-1939 or email recarroll@usi.edu.