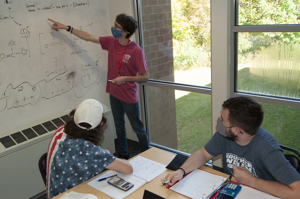 When it comes to recruiting new University of Southern Indiana students, it may seem like a straight-forward task. But recruiting requires more than a tour of campus. Taking that extra step to show individuals considering USI how much our students mean to the University can be the difference between a recruit selecting USI over another campus.
And going above and beyond is something we excel at.
Dr. Jennifer Evans, Associate Professor of Nursing and Interim Assistant Dean of the College of Nursing, knows personally about that extra step, and not just as a member of the USI community. During a visit to campus with her son Ben to explore the Engineering Department, they were thoroughly influenced by the impression Dr. Paul Kuban, Professor of Engineering and Chair of the Engineering Department, and his department left on them.
"I was blown out of the water," says Evans. "We met with Paul, and he was very clear on the curriculum. He showed Ben what courses he would be taking, what his options were and even talked about some of the career paths each of the majors could lead to."
Kuban says the personal connection he and the Engineering faculty work to establish with prospective (as well as attending) students is what it all boils down to.
"As compared to a larger school, when they [prospective students] come for a tour here at USI, most of the time they are going to talk to me, the department chair or one of our faculty members," he says. "It's that personal connection that we really emphasize. Our faculty are all accessible to students. They are all very enthusiastic about helping the students whenever they need help."
"That's something that is a rarity in a larger university," Kuban emphasizes.
How does Kuban and the Engineering Department initiate these connections with visiting prospective students and their families? It's a simple, yet powerful plan, sharing information and tailoring meetings and tours to the specific individual visiting.
Prospective USI students who come to visit the Engineering Department begin with a meeting where Kuban (or another faculty member) discusses "all of the wonderful things about USI," he says. That discussion continues with notes on the department, degree programs, student club activities and internships USI Engineering students enjoy.
Furthermore, Kuban and faculty will have an overview of the curriculum for the degree program a specific student is interested in.
From there, it is on to the tours.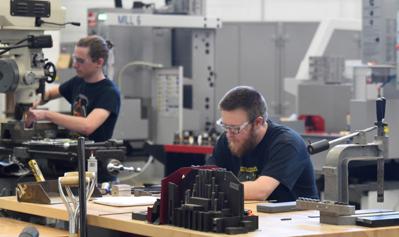 "I take them through the laboratories in the Business and Engineering Center. Then, if we have time, and there's an interest from the student, we might also drive over to the Applied Engineering Center to view all of the state-of-the-art equipment in that facility," says Kuban.
For Evans and her son Ben, the attention to details made all the difference.
"Meeting with Paul, to me, really sealed the deal for Ben to come to USI and pick engineering," she says. "And now he seems more motivated (to start in the 2022 Fall Semester)."
Not only did the visit motivate her son, but Evans also admits going through the Engineering Department tour as a parent gave her motivation and ideas to help with recruiting. It also provided inspiration for tours she can help plan and lead in the College of Nursing and Health Professions. She hopes to have a similar packet of information for prospective nursing students to mirror Engineering's method—standardized information about the College of Nursing and Health Professions with included information tailored to the specific student visiting and the major they are interested in.
"I'm not looking out just for nursing (when recruiting)," she says about recruiting. "I'm vested in the reputation and the success of our University as a whole."
Kuban agrees, adding that the task of "selling" the campus, the Engineering Department and the overall student experience at USI is "easy." "I've spent 26 years here at USI. I've raised my family in this area," he says. "I'm very fond of USI. All I'm doing is telling the truth with visiting parents and their prospective students. It just comes naturally."
When it comes to looking at your department and how to best recruit  those interested in USI, Kuban says to start at the top and work down, beginning with Evansville's offerings, funneling through the beautiful campus and excellent facilities, highlighting the friendly USI community and then the specifics of the department students are interested in.
"In the case of our department, our enthusiasm and accessibility of our faculty—as well as the excellence of our engineering facility and lab equipment—stand out to prospective students," he says.