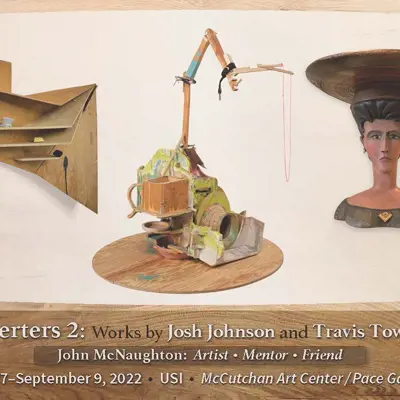 USI MAC/Pace Galleries hosting two summer sculpture exhibitions
Two sculpture exhibitions are simultaneously on display in the University of Southern Indiana's McCutchan Art Center/Pace Galleries this summer.
Converters 2 showcases two artists, Josh Johnson and Travis Townsend, contemporaries working primarily in wood, whose aesthetics question traditional approaches to the material. Townsend served as juror for USI's 52nd Annual Juried Student Art Show last spring. Both artists' working process share many concerns, including the deconstruction and reconstruction of their own art objects, the juxtaposition of commercial and reclaimed materials with careful craft, and the importance of location and space when their work is displayed. The Converters exhibition series strives to bring unconventional art practices to the gallery, hoping to expose audiences to a varied spectrum of contemporary art from outside the Tri-state.
Emeritus Professor John McNaughton taught woodworking and sculpture at USI for more than 35 years. He passed away unexpectedly last March. The exhibition, John McNaughton: Artist, Mentor, Friend, celebrates his impact on the University and highlights his works which are a part of the University's permanent collection, including multiple outdoor sculptures he helped create on campus. The exhibition is organized by Susan Sauls, Director of University Art Collections.
A closing reception for the two exhibitions will be held from 2 to 4 p.m. Friday, September 9. Visit the Gallery website for more details.
These exhibitions will be displayed in the Gallery through September 9. The MAC/Pace Gallery is located in the lower level of the Liberal Arts Center on campus. Summer hours are Monday through Friday from Noon to 4 p.m.  Starting in the Fall, Gallery open hours expand to 10 a.m. to 4 p.m. and Sundays from 1 to 4 p.m.