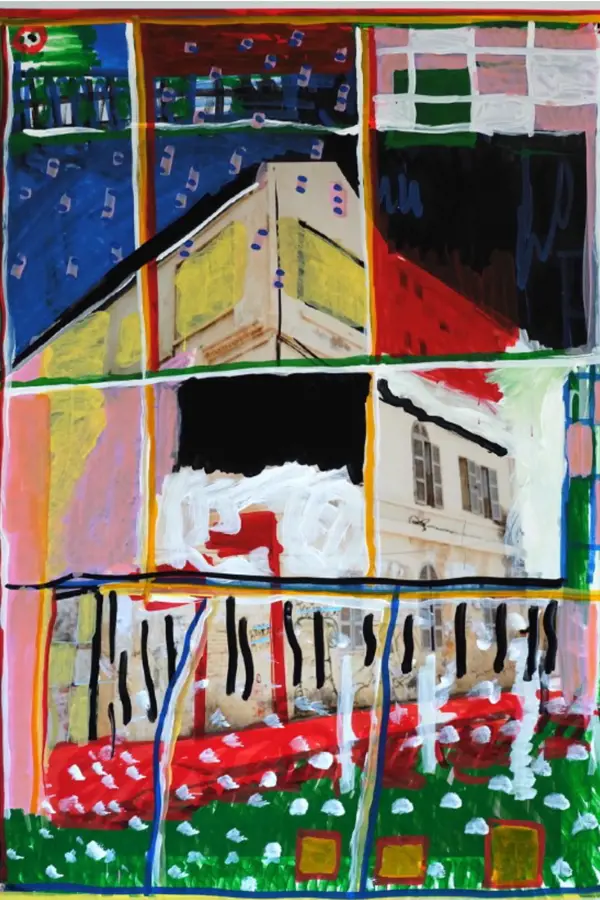 Internationally known artist, Modou Dieng, exhibiting at New Harmony Gallery of Contemporary Art 
Image: Modou Dieng Yacine Lycee Faidberbe, 2021. Mixed media on printed photograph. 52 x 36 in.  
The University of Southern Indiana's New Harmony Gallery of Contemporary Art is proud to present Utopia Land featuring mixed media works by Modou Dieng Yacine. In this solo exhibition, Chicago-based artist Modou Dieng Yacine builds upon architectural imagery from New Orleans, Louisiana, and his hometown of Saint-Louis, Senegal, to imagine an ideal place.  
Utopia Land runs from July 9 to August 27, 2022, opening with a reception from 4 to 6 p.m. July 9, in conjunction with July's New Harmony Second Saturday. Gallery hours are 10 a.m. to 5 p.m. Tuesday through Saturday. 
Modou Dieng Yacine's constructive and de-constructive work in Utopia Land creates new landscapes out of colonial structures. Dieng Yacine incorporates accessible materials into his paintings, such as cardboard fragments, denim pieces, vinyl records and photographs of African objects, manufacturing a spacial occupation of an abstracted space. While developing these layered surfaces, he cuts into his canvases, removing part of the façade and revealing the form-or a hollow interior. While grounded in the histories of two physical locations, Utopia Land imagines a transcendent place that celebrates African identity and postcolonial futures.  
Modou Dieng Yacine was born in Saint-Louis, Senegal. He is a multidisciplinary artist exploring the symbolic and mythological power of pop culture through mixed media and hybrid materials. His work constructs a mural of archetypal cultural imagery filtered through the perspective of a split identity between Blackness and Western Philosophy. Dieng Yacine has exhibited internationally and is the co-founder of Blackpuffin, a curatorial company, based in Chicago, Illinois. Dieng Yacine holds an MFA from the San Francisco Art Institute (San Francisco, California).  
This exhibition is made possible in part by the Arts Council of Southwestern Indiana and the Indiana Arts Commission, which receives support from the State of Indiana and the National Endowment for the Arts. 
New Harmony Gallery of Contemporary Art promotes discourse about and access to contemporary art in the southern Indiana region and is a proud outreach partner of the University of Southern Indiana.