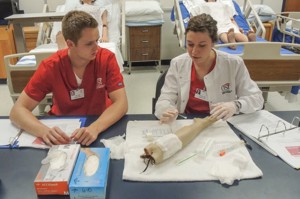 The University of Southern Indiana College of Nursing and Health Professions now offers two application periods for the Bachelor of Science in Nursing (BSN) Program and has changed to a Holistic Admission process for admittance in the program.  
Second application period offers nursing students more flexibility 
Students are now able to apply to the USI Nursing Program during two application periods—summer and spring. Students who are admitted during the traditional summer application period start in the following Spring Semester. The new spring submission period will allow admitted students to start in the following Fall Semester. This additional application period and program start gives students the opportunity to enter the program based on individual academic pathways. 
First-time degree seeking students come to USI with varying amounts of dual credit, and previously, with the singular summer application period, they would have to delay their start and take extra courses. Now, first-time degree-seeking students with dual credit can apply in the spring and be ready for a Fall Semester start if admitted into the program.  
"The need for highly skilled nurses continues to grow, and USI has a strong history of educating this vital workforce," says Dr. Jennifer Evans, College of Nursing Interim Assistant Dean and Associate Professor of Nursing. "USI nursing is a rigorous and widely known program with talented students seeking to be part of it. Our goal is to increase enrollment with these dual starts. Traditionally, we've admitted somewhere between 120-140 students annually—we are very hopeful that this new system will gradually increase that number." 
With the new application period, the nursing program will begin graduating students three times per year instead of the two traditional times in December and May (at the conclusion of Fall and Spring Semesters, respectively). Beginning in the 2023-24 academic year, BSN students will graduate in December, May and July. Those set to graduate in July will be eligible to participate in Spring Commencement ceremonies in May, while finishing their course work through July. Evans says around 90% of nursing graduates stay in the Tri-state Area post-Commencement, so graduating students at three times throughout the year versus two builds a sustainable pipeline of qualified nurses to be placed in the area.  
Holistic Admission process introduced to make Nursing Program more inclusive 
Previously, students seeking admission into the Nursing Program were accepted based 100% on grades, including grade point average (GPA) and scores earned in specific science courses. Now, with the Holistic Admission process, admission into the program for students who have completed 31 hours of required University courses is based 50% on college GPA, with the remaining 50% based on personal characteristics including a written letter, resume and an interview process.  
"This process provides students without a perfect GPA the ability to highlight other areas they excel in to be considered for the program," says Evans. "This additional information may allow a more diverse group of students to apply and our admission process to be more inclusive." 
The Holistic Admission process is in addition to the established Direct Admission and Conditional Direct Admission processes. Those students who meet the criteria for Direct and Conditional Direct Admission can apply during their senior year of high school. Students accepted into the Direct or Conditional Direct Admission pool who maintain the required college GPA along with other program admission requirements are not required to go through the Holistic Admission process.  
"We know that nursing is more than a high GPA," says Dr. Constance Swenty, Interim Dean of the College of Nursing and Health Professions and Associate Professor of Nursing. "While knowledge is important, nurses provide caring and empathy as well as culture and diversity to their communities and patients. The Holistic Admission process gives an opportunity to look at all qualities the student is bringing to nursing." 
The 2022 traditional summer application period has been extended through Friday, July 29th. Students accepted in the program during this application period will begin nursing courses in Spring 2023. 
For more information, visit the BSN Admission website. For questions regarding the changes, email Evans at jennifer.evans@usi.edu or call 812-461-5226.