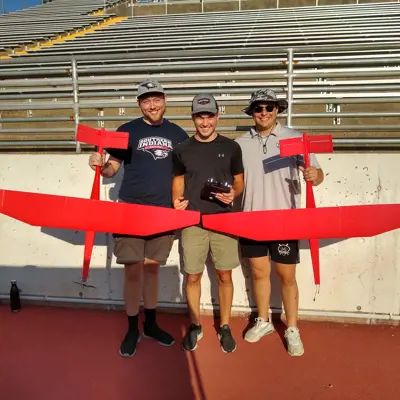 USI student team finishes second at national 3D Printed Aircraft Competition
Four University of Southern Indiana students, advised by two USI professors, competed in the sixth annual 3D Printed Aircraft Competition, hosted by the University of Texas at Arlington at Maverick Stadium in Arlington, Texas. The team placed second in the fixed wing category with their best flight time of 9.17 seconds. The competition hosted 16 student teams from around the nation, including Stanford, Baylor, San Diego State, Virginia Tech and more.  
The competition consisted of student teams designing a small aircraft with a lightweight, 3D-printed airframe. Each team's aircraft had three attempts to achieve the longest flight time, with the constraint that only eight seconds of powered flight was allowed per flight.  
Joel Knackmuhs, Landon Mayer, Glen Rouch and Isaac Whitehead, all Spring 2022 mechanical engineering USI graduates, designed and built multiple iterations of an aircraft design as part of their ENGR 491 senior design project, advised and assisted by Dr. Jul Davis, Associate Professor of Engineering, and Dr. Todd Nelson, Assistant Professor of Engineering.  
The students brought two identical aircraft in multiple pieces packed in their carry-on luggage, which they assembled in their hotel room after their arrival. This was necessary because of the difficulty in bringing an already assembled aircraft in carry-on luggage. 
The team used an innovative hinge made of 3D printed material to attach the control surfaces of the aircraft to its body-this was a unique aspect of their project setting it apart from other teams' aircraft. 
"Sometimes, you just know when a team will be successful, and it was exactly the case with this team," Davis says. "Everyone's ability to work well together, learn new things on their own and their interest in-and dedication to-the project were all key components of their success. There is no doubt in my mind each of these students will be successful in their future endeavors." 
With their second-place finish, the team collected a $500 prize and gained valuable skills in learning to design an engineering system with advanced manufacturing methods which require a unique set of process and material constraints.  
For additional information on the Bachelor of Science in Mechanical Engineering Program at USI, contact Dr. Paul Kuban, Chair of the Engineering Department, at pkuban@usi.edu.