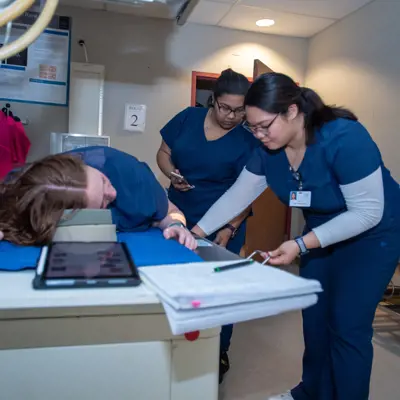 Earn & Learn collaboration with USI, Ivy Tech, UE and regional healthcare offers students experience and income opportunities
The University of Southern Indiana is collaborating with Ivy Tech Community College Evansville and the University of Evansville to prepare students for short- and long-term success in healthcare through Earn & Learn, a collaborative, new program aimed at teaching career readiness while providing students industry experience and the opportunity to earn income. Earn & Learn was announced at a press conference in downtown Evansville October 7, including representatives from all three higher education institutions, Deaconess, Ascension St. Vincent, Evansville Mayor Lloyd Winnecke and representatives of the Evansville Regional Economic Partnership (E-REP). 
Available to full and part-time students with an interest in health and life sciences, Earn & Learn will create an intentional employment pipeline to fill entry level roles, meeting the growing workforce demand in the healthcare sector. Seven entry level occupations (non-clinical and clinical options available) are being piloted for direct student employment.  
"This Earn and Learn initiative will not only provide employment for our students while pursuing a USI degree but also will provide many of them with hands-on experience within the healthcare system—opportunities that will serve them well during their education and as they enter new careers," says Dr. Ronald Rochon, USI President. "We are also excited about the collaboration this initiative will foster within our own institution, bringing together faculty, staff and students from a variety of areas and disciplines across campus."  
Christopher M. Pietruszkiewicz, President of the University of Evansville, says Earn & Learn is an opportunity that will incentivize budding talent and support the needs of Southwest Indiana. Daniela Vidal, Ivy Tech Community College Evansville Chancellor, says being able to offer an opportunity of this capacity to two local health systems and students is important. 
Deaconess Health System and Ascension St. Vincent Evansville are the initial healthcare providers involved in the Earn & Learn program. Both providers have committed to streamline the hiring and onboarding process for Earn & Learn participants who will make $15 an hour in entry level positions. Students can indicate interest and connect with hospital recruiters through online portals provided by each healthcare provider.   
A Professionalism Certificate is also in the works for the Earn & Learn Program. Students will be able to obtain the certificate after completing a hybrid six-module training created by USI, Ivy Tech and UE. At USI, Career Services and Advising Centers are collaborating with faculty and alumni to offer certificate modules. Southwest Indiana Area Health Education Center (SWI-AHEC), housed at USI, is also playing a vital role in developing the Professionalism Certificate.  
"We've seen the toll the pandemic has had on the workforce, and healthcare is no different. We're excited to provide students with an immersive experience and play a role in their academic and professional education," says Alex Chang, FACHE, President, Ascension St. Vincent, South Region. "As a pilot hospital, we have already started connecting with students and look forward to sharing the impact this program will make on our community."  
Twelve USI students participated in a pilot program led by Dr. Kevin Valadares, Professor of Health Services and Chair of Health Administration, during August and September with positive results. Valadares says he also sees the new initiative as a boon for underrepresented students, already in short number in healthcare fields, who are looking for valuable educational experiences as well as an entry point into the healthcare workforce.  
"Earn & Learn will prevent students from being in the difficult position of choosing between earning needed income and getting an education," says Shawn McCoy, Deaconess CEO. "Our partnership in the Earn & Learn initiative is truly an investment in the health of our entire region as the program participants are future employees who will care for our patients, families and community." 
For questions about USI's involvement in Earn & Learn, contact Dr. Kevin Valadares, Chair of Health Administration, at 812-461-5277.