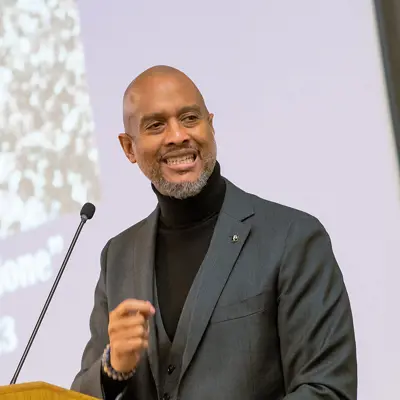 USI hosts sellout crowd for MLK Luncheon and speaker Keith Beauchamp
Sophie Kloppenburg honored for work with Posey County memorial
View a gallery of images from Monday's event 
In front of a sold-out crowd, including a live-streamed overflow, the University of Southern Indiana honored the life and legacy of Dr. Martin Luther King, Jr., including a rousing talk by Emmy-nominated documentary filmmaker Keith Beauchamp.  
In 1999, Beauchamp founded Till Freedom Come Productions, a company devoted to socially significant projects aimed at teaching and entertaining. Over the past 22 years, he has worked tirelessly to tell the story of Emmett Till and has traveled extensively between New York, Chicago and Mississippi to investigate the historic murder.  
Beauchamp welcomed all to "a time where we celebrate the birthday and memory of our brother, the late, great, Dr. Martin Luther King. A day for not only remembering his legacy but memorializing those who have lost their lives on this continuous struggle for civil and human rights in this country, and those who continue to understand the importance of fighting for justice." 
Beauchamp talked heartfeltly about his work over the years to uncover more facts behind the Emmett Till story. Till was a 14-year-old African American boy who was abducted, tortured and lynched in Mississippi in 1955 after being accused of offending a white woman in her family's grocery store. The brutality of his murder and the fact his killers were acquitted drew attention to the long history of violent persecution of African Americans in the United States, and he posthumously became an icon of the civil rights movement.  
"With the recent climate of race relations in our country there's a lot of work that still needs to be done. It's shocking to be a part of King's legacy and live long enough to see history repeats itself. It's shocking to realize that many of the rights our ancestors gave their lives for, and King fought for, slowly dwindling away," said Beauchamp.  
Sophie Kloppenburg honored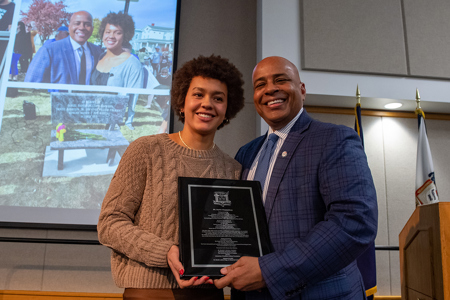 During Monday's luncheon, USI President Ronald S. Rochon presented Sophie Kloppenburg with an honor for her work to establish a memorial on the Posey County Courthouse lawn honoring seven men whose lynching and murder in the late 1800s were never recognized.  
The Posey County site where the memorial was placed is where residents Jim Good, William Chambers, Edward Warner and Jeff Hopkins were lynched. Daniel Harrison, Sr., Daniel Harrison, Jr., and John Harrison were also murdered at other sites in the Posey County community. A grand jury was called to investigate the tragic events—however, no one was ever indicted.   
"Young and daring, committed to caring, a humble nature who challenged each of us to address our past and give humanity a reason to trust. Sophie, we thank you for highlighting a horrific past by teaching us to attack injustice with grace and mercy that will last," Rochon said while addressing Kloppenburg.  
Also recognized were Kloppenburg's high school teacher, Kevin Krizan; mother, Dr. Lioba Kloppenburg; and USI faculty mentor Kristalyn Shefveland, Associate Professor of History, for their part in Kloppenburg's journey. "Without the love and the investment and the dedication and commitment that people have that pour into them, this doesn't happen," said Rochon speaking on the power of support.  
Additional speakers and a dance performance rounded out the luncheon event.