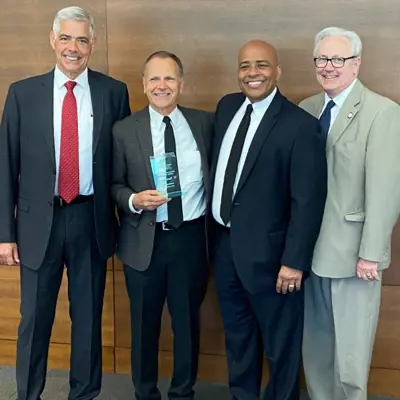 Barnett named 2023 Suzanne A. Nicholson Award recipient
The University of Southern Indiana Foundation Board of Directors honored Dr. Joey Barnett '81 as the 2023 recipient of the Suzanne A. Nicholson Leadership Award on Thursday, May 18 at the annual meeting of the Foundation Board of Directors in the Griffin Center on campus. 
To be considered for the award, individuals must exercise a strong leadership role in fulfilling the mission of the USI Foundation, and they must embody Nicholson's dedication and spirit in meeting the needs of USI.   
Barnett was selected as the award recipient as a result of his exemplary service to the University and his genuine interest in the success of USI students. He has mentored several USI students and played a role in their acceptance to medical school and PhD programs. In addition to his mentorship, Barnett established the Medical Professions Scholarship Endowment to provide generous scholarship support for graduates of the Evansville Vanderburgh School Corporation Medical Professions Academy who attend USI. 
"Joey continues to support the University and Foundation in every way," says David Bower, Vice President for Development and Alumni Engagement. "Through involvement, example and personal generosity, he exemplifies the very best qualities of leadership and reflects the ideals of the University."  
The Suzanne A. Nicholson Leadership Award was established in 2006 and first awarded in 2007. Susie Nicholson announced in July 2005 that she planned to retire from USI in August 2006. Foundation Board Director Bob Roeder '71, a member of the University's first graduating class, suggested honoring Nicholson for her 20 years of work in the Development Office. At its May 18, 2006, Annual Board Meeting, the USI Foundation Board of Directors adopted an appreciation resolution for Suzanne A. Nicholson.   
For a full list of award recipients, visit USI.edu/giving.