Bower recertified as Certified Fund Raising Executive
June 30, 2023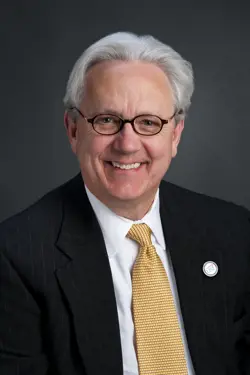 CFRE International has announced David A. Bower, Vice President for Development and Alumni Engagement and President, USI Foundation, has recertified as a Certified Fund Raising Executive (CFRE).
Bower is one of only 7,700 professionals around the world who hold the CFRE designation. He has held the CFRE certification since 1999 and has recertified every three years since then. Bower will celebrate his 25th year with this prestigious certification in the summer of 2024.
 
Individuals granted the CFRE credential have met a series of standards set by CFRE International which include tenure in the profession, education and demonstrated fundraising achievement. They have also passed a rigorous exam testing the knowledge, skills and abilities required of a fundraising executive, and have agreed to uphold Accountability Standards and the Donor Bill of Rights. 
                       
"The CFRE credential was created to identify for the public and employers those individuals who possess the knowledge, skills, and commitment to perform fundraising duties in an effective and ethical manner," states CFRE International President and CEO Eva E. Aldrich, Ph.D., CAE, (CFRE 2001-2016). "As the certification is a voluntary achievement, the CFRE certification demonstrates a high level of commitment on the part of Mr. Bower to the fundraising profession and the donors who are served."
                       
CFRE recipients are awarded certification for a three-year period and can sit for the initial examination only after completing five years of continuous service as a professional fundraiser. To maintain certification status, certificants must demonstrate on-going fundraising employment and fundraising results and continue with their professional education. Employers and donors who work with CFREs know they are getting a professional who is committed to the best outcomes for their organization and has the requisite knowledge and skills.
           
The CFRE certification signifies a confident, ethical fundraising professional.