Gogel, USI alumni named to Rotary Club's 20 Under 40 list
July 28, 2023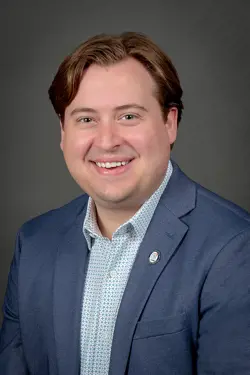 The Rotary Club of Evansville recently announced its annual 20 Under 40 Class of 2023 list. This year's class represents 20 leaders from various backgrounds and professions who are helping to shape the Evansville region and its future. 
This year's list includes Taylor Gogel '13 M'19, Assistant Director of Development and Chair of Administrative Senate. 
Eleven other USI alumni were also named to the annual list: 
Lacy Bender M'08
Josh Bowman '09 M'19
William Cannon '13 M'18
Devin Deisher M'23
Hope Fussner '12
Andrea Herschelman M'20
Ashley Hughes '13 M'17
Daniel Schweikhart '17
Amber Thorn '07
Olga Tsybulnik '01
Aaron Wilzbacher '06
Individuals who are younger than 40 years old and have exhibited leadership qualities and characteristics were eligible for nomination. Gogel and the 19 other recipients were selected from more than 130 nominations based on their professional accomplishments and community involvement. 
The recipients will be honored at a dinner reception on September 26 in the Bally's Riverfront Event Center.