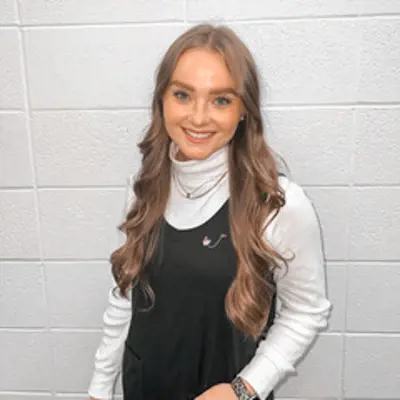 Students in the USI College of Nursing and Health Professions are taught the importance of working together within a healthcare team to ensure the best possible patient outcomes. Brooke Shafer, a senior nursing major, has first-hand experience with this concept.
In September 2022, she was on her way to class at the Stone Family Center for Health Sciences, expecting a "totally normal day" when the unexpected happened. "I saw a man lying on the ground, and the adrenaline immediately kicked in," she said. "I ran to his side along with a PA (physician assistant) student."
The PA student from the University of Evansville was already on the phone with 911, so Shafer checked for a pulse. When she found none, she ran inside the building to get the automated external defibrillator (AED).
"When I returned with the AED, we started to open it up and place the leads on his chest, and then the first responders showed up and took over," she said. "I stayed on the sideline for quite a while, and my professors were kind enough to let me miss out on some of class so I could stay until they got him loaded into the ambulance."
Shafer never knew the outcome of the man, and that would have been the end of this story. Until November 17, 2022. On that day, at a luncheon at USI after the unveiling of Dr. Ronald Rochon's official presidential portrait, Paul Medcalf told those seated with him the harrowing story of collapsing at the doors of the Stone Center the previous month. He related how two students came to his aid. That's when the connection was made that this was the man that Shafer had assisted.
Medcalf is a USI graduate who "never fully left USI" because he has been very involved with the campus and various projects over the years. The 73-year-old said he first attended USI in 1968 when it was  Indiana State University - Evansville. He took a break from his studies when he joined the U.S. Air Force, then returned as a non-traditional student to earn two degrees from USI: an associate of science degree in business in 1982 and a bachelor of science in business administration in 1986.
He explained the reason he was at the Stone Center that day in September. "I had just dropped my wife off at her doctor's appointment, which was downtown near the Stone Center," he said. "I decided to walk over to the Center since I had not been in it since the ribbon cutting (in 2018), and I wanted to see how it looked now and visit some people I know there. As I made it to the door area, my heart stopped—I just died. I fell back and hit my head."
From what he has been told, he was shocked five times and arrived at the hospital in critical condition but with a heartbeat. Because of his head injury, he was in a coma for three days, and he says he has no memory of the week he spent at the hospital recovering.
Medcalf is thankful he was walking when this happened and not driving his car. He is also grateful for the two students who acted quickly to use the skills they had been taught in the classroom to help save his life.
As for that USI Nursing student? Shafer said she was relieved to hear the man she helped lived to tell the tale. "The last update I had was they had gotten his heartbeat back," she said. "That is all I knew until I heard he was at the luncheon, so it was great to hear he was doing well!"
The Princeton, Indiana, native will graduate with her BSN in May 2023, and she plans to plan to work at a local hospital in acute care nursing.
Shafer said it is important for everyone–not just nurses–to know CPR and basic life support. "You never know when you will need that skill," she said. "It is scary to think about, but these unfortunate events can take place anywhere at any time, so it's good to be prepared."