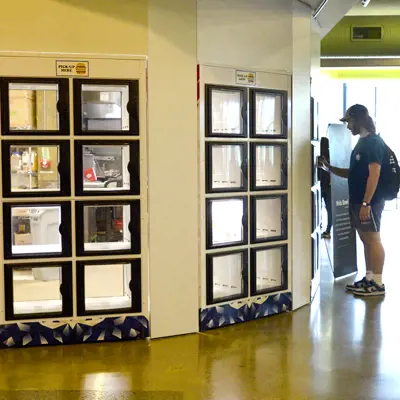 Dining in UC East to see changes
Before the end of the 2023 Spring Semester, the USI community heard the news of renovations and new concepts coming for dining locations across campus. With a new academic year on the horizon, USI Dining has been gearing up to unveil the changes students, employees and campus guests will see this fall.
As there are many changes, USI Today will feature multiple articles in upcoming issues, detailing the renovations, changes and new menus being offered! This issue features some of the changes coming to UC East.
Read about the updates coming to Chick-Fil-A and Welcome Week dining hours
New Ghost Kitchen menu
It was feedback from students that had USI Dining assessing the future of the Ghost Kitchen, located in University Center East. Once summer rolled around and it was certain Mr. Beast Burger would not be returning, Karen Johnson, who manages the Ghost Kitchen, Mein Bowl and Sub Connection for USI Dining, started planning a new, quick food option for diners.
Called "Eagle Eats," the menu will still feature smash burgers, where guests can choose from hamburgers, cheeseburgers or bacon cheeseburgers. Hot dogs will also be available in different types, including a Chicago-style dog that Gregory Dillard, Campus Executive Chef, helped build, as well as a vegetarian bratwurst.
Instead of fries, tater tots will be offered as a side option and will also be the base for the barbecue tots-cho menu item, which will include tots, hamburger beef, barbecue pork, cheese, onions and jalapenos. Desserts are also planned, including funnel fries with chocolate dipping sauce.
Eagle Eats' menu will also see the return of baked potatoes to a campus menu. "When planning this menu, we wanted to bring in items that you can't already find on campus," says Johnson.
More options for Eagle Eats could be announced closer to the start of classes, but these core items will be the basis of the new offerings in UC East. Johnson is excited about the flexibility Eagle Eats will have, allowing her to adjust the menu to include popular items and keep costs down.
Guests will be able to place orders for Eagle Eats through the Grubhub app (with a 59-cent fee applied) or through the self-service kiosks located in UC East.
Food machines
The Byte Cooler, Yo-Kai and Le Bread machines in UC East brought something entirely new to USI's dining scene—automated food service. This Fall, USI can expect a new option to join these as well.
Original plans were to install a Pizza ATM, but unfortunately, there were issues with delivery. Instead, Becky Diamond, Director of Dining Services, is planning to add a frozen yogurt option in the empty space.
USI Athletics requested a Byte Cooler, which provides pre-made sandwiches, salads and other options, be added to the Screaming Arena Complex to support student-athletes when they are training or before home games. Diamond says to expect some shuffling of the Byte Coolers around campus after the start of classes to accommodate the Arena as well as continue to provide a food option for other buildings.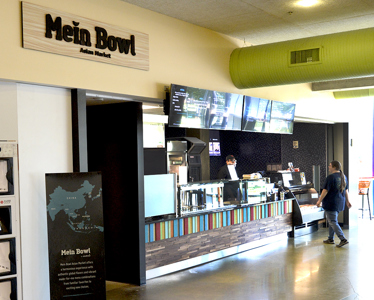 Karen Johnson added that Le Bread (currently offering different breakfast bakery items and a cheese pizza) will more than likely expand its offerings to include a variety of pizzas now that the Pizza ATM will not be installed. She also says Yo-Kai, which serves ramen, is expanding its menu options.
Mein Bowl refresh
Mein Bowl will be back in the Fall, and with the location's reopening, the University community can expect to see new items on the menu. A new manager, a sushi master, will bring back poke bowl options and other specials to the expanded offerings.
Reminder: USI Dining locations will have special hours for Welcome Week, starting Wednesday, August 16.
The next story in this series will detail changes coming to The Loft and other UC West dining offerings. 
Hours for Welcome Week
Below are hours for all dining locations on campus during Welcome Week (August 16-23). Fall Semester dining hours will be posted soon.
Starbucks
August 14-18: 7:30 a.m. – 1:30 p.m.
August 19: 10 a.m.– 5 p.m.
August 20: 2– 8 p.m. 
Sub Co.
August 14-18: 7:30 a.m. – 2 p.m.
August 19-20: 3 – 8 p.m. 
The Loft

August 19-20: 10:30 a.m. – 3 p.m.
Chick-Fil-A
August 16-18: 10 a.m. – 3 p.m.
August 19: 3 – 8 p.m.
August 20: Closed
Eagle C-Store
August 14-15: 10 a.m. – 2:30 p.m.
August 16-17: 9 a.m. – 10 p.m.
August 18: Normal hours
 Archie's Pizzeria

August 14-15: 10 a.m. – 2:30 p.m.
August 16-17: 9 a.m. – 9 p.m.
August 19: Normal hours
Archie's Delivery

Eagle Card Office

August 16-18: 8:30 a.m. – 4 p.m.
August 19-20: 10 a.m. – 3 p.m.