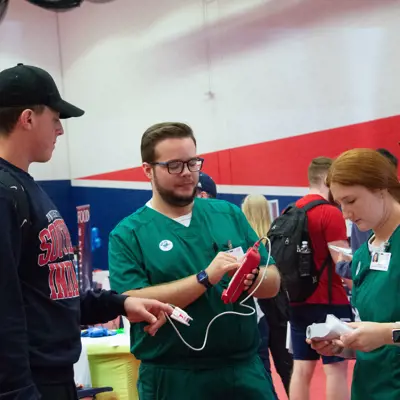 USI annual Wellness Fair returns on September 27
An annual event integral to the Fall Semester here at USI, the Wellness Fair is set to bring almost 60 vendors to campus for students, employees and retirees on Wednesday, September 27 in the Screaming Eagles Arena. The event kicks off at 9 a.m. and will present a variety of healthcare resources to attendees through the day. 
A total of almost 60 vendors will present resources and gather information on health-related topics encompassing the eight dimensions of wellness: physical, emotional, occupational, social, financial, intellectual, spiritual and environmental health. Just as in previous years, guests to the Fair will be able to obtain blood pressure evaluations, cholesterol evaluations and respiration evaluations.  
The University Health Center (UHC) will also be in attendance, providing flu shots—these shots will be covered for USI employees on any USI Anthem medical plan. Please be sure to bring your USI ID and Anthem medical card to receive the free flu shot. If you are not on a University Anthem medical plan, please contact the UHC to verify coverage.  
The Fair will also have free gifts and treats for attendees including fresh fruit, plants and other vendor items. Live yoga demonstrations will be given by Sift Yoga and USI Public Safety and the Vanderburgh County Sheriff's Office will be on hand to discuss safety. 
USI employees and students are encouraged to have their USI Eagle Access Cards with them to register/swipe their ID when entering the Fair—completing the registration will ensure guests receive the USI Wellness Fair Survey after visiting the event. Fill out the survey to be entered for a chance to win a Ninja blender (two blenders will be awarded; one to a student and one to a USI employee), snack baskets and other door prizes. A link to the survey will be emailed to those who register.  
Volunteers are still needed for various areas of the fair! You can sign up for these spots online. Full details, along with times of demos, can be found on the Wellness Fair website.