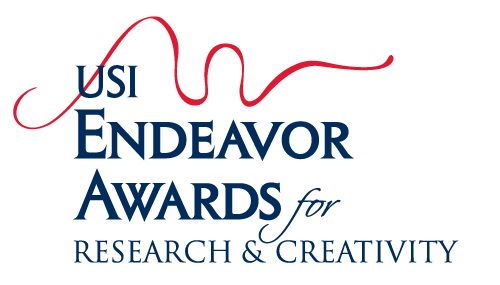 The Endeavor Research and Creativity Awards is a competitive program for undergraduates who are conducting scholarly research or creative endeavors at the University of Southern Indiana. Students are encouraged to apply for up to $2,500 through proposals that they write with help from their faculty sponsors.
All successful award participants are required to present their research at the Endeavor Research and Creative Works Symposium on Thursday, April 6, 2023. Please note that Endeavor grants are awarded to the student, not the faculty member. All grant expenses and reimbursement requests must be completed before the student's graduation.
Allowable Costs
Student-written project awards can be used to help defray costs for equipment, lab work, materials, and travel expenses to research sites necessary to complete the project. All equipment and excess materials purchased for the project using Endeavor funds become the property of the faculty sponsor's department once the project is completed. Projects that do not contain a substantial student research or creative component will not be considered.
Project Award Deadlines
The two deadlines are Friday, October 7, 2022, and Friday, February 10, 2023. Submit proposals for Endeavor Awards electronically to Dr. Michael Strezewski mstrezewsk@usi.edu (pdf format preferred). Do not send hard copy proposals through campus mail.