Tailfeather

Professor Mikel Hand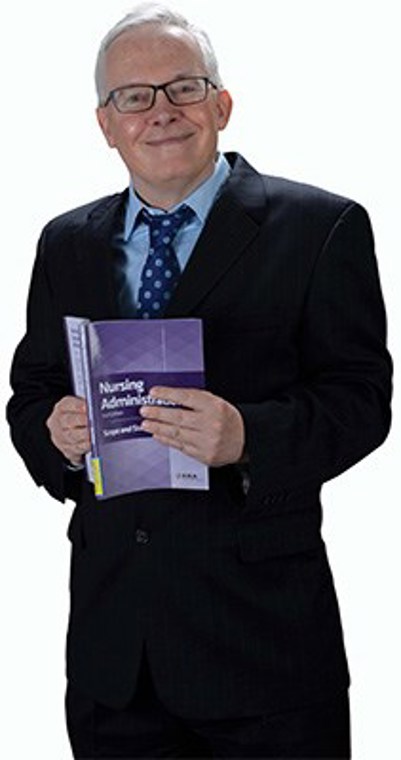 The career Dr. Mikel Hand thought he wanted and the one he landed on reside at opposite ends of a spectrum yet are surprisingly akin. Mikel, Associate Professor of Nursing, joined USI's faculty in 2011, bringing more than 30 years of healthcare and eight years of academic experience to students. In high school, however, he imagined his future in funeral services, but a health service course his junior year derailed that idea. By his senior year, he was working a 40-hour a week nightshift as a CNA and attending school—the catalyst into a life-long enthusiasm for...well, life, with a special interest in oncology.
The only male nursing faculty ever promoted as well as tenured at USI, Mikel's research focuses on end of life, nursing leadership and health systems, and educational innovation. He also teaches online graduate courses, consults for a rural community hospital, serves on committees and more.
As a male in a female-dominated field, what underappreciated value do males bring to nursing?    
We bring a fresh perspective and a different approach to healthcare concerns. Women are wonderful, but we need the balance of both genders. Our interests may be different as well.
What challenges did you face working as a hospital nurse?     
They're different depending on the position I was in at the time. As a staff nurse, one of my greatest challenges was burnout. I went from medical oncology to bone marrow transplant. Working in large research facilities, it was not unusual for patients to die as a result of treatment complications. It was hard not to feel personally responsible when the outcome did not go well. It is somewhat ridiculous to think that way, but you bond with those patients and their families.
Describe your teaching style and its impact on students.    
My teaching style could be best described as high standards with love and customization. I provide clear expectations, but I try to approach teaching based on where students are at intellectually. I want them to be successful and one approach does not work with every student.
Your areas of research are diverse. What is the connection for you?
For me they readily connect based on my clinical interest, additional specialized expertise and the degrees I hold. End of life research stems from my long career in oncology and a remaining interest. Leadership and health systems are the core of the three spheres (courses that I primarily teach and thus important I contribute to that body of knowledge). I hold a doctorate in education and feel responsible to continue to contribute to the knowledge surrounding educational innovation.
What words sum you up?
What you see is what you get. I am authentic.
What one lesson have you learned from students? You may have a plan, but you need to be prepared to change it if it is not working.
What book should everyone read, and why?
Howard Gardner's Leading Minds: An Anatomy of Leadership. The book features leaders in history, of which many were known as great while others were quite evil. I think it is important to know that even an evil terrorist can be an effective leader. They have a clear set goal and they accomplish it at the expense of others who are willing to follow them. It all depends on how leadership skills are used.
What do your hobbies teach you?
They teach me to have a life outside of constant work. I need to do fun things so that I have the energy to continue to do what I do. Funny enough, hockey reminds me that we all have frustrations, there are just different ways of dealing with them. There are days when I would like to have a stick and a hockey puck.