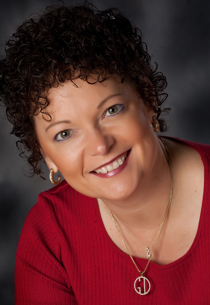 Tracy Zeller, University of Southern Indiana alumna and owner of Tracy Zeller Enterprises, Inc., has been named 2015 Distinguished Accountant. This honor is awarded annually by the USI Romain College of Business in conjunction with the USI Accounting Circle. The selection criteria includes: professional achievement and stature in the accounting industry, USI and community involvement and leadership. The award was announced by last year's Distinguished Accountant, Steve Mudd, partner and director of Business Development with Riney Hancock CPAs PSC.
After attaining a bachelor's degree in accounting from USI, Zeller, an Evansville native, completed her Diamond Graduate Certification through the Gemological Institute of America. In 2004, she opened the Tracy Zeller Jewelry showroom on Evansville's west side.
Zeller is dedicated to a personal calling she describes as "live to give," by fulfilling donation requests from numerous community and charitable organizations. She also serves on various boards and committees, including Kiwanis, Business Network International, A Network of Evansville Women, the Chamber of Commerce of Southwest Indiana, First Bank and USI's Accounting Circle. She continues to support many local organizations, including Women's Fund of Vanderburgh County, Leadership Evansville, the Vanderburgh Humane Society and Keep Evansville Beautiful.
In addition to being named USI Alumni-in-Residence and USI Distinguished Alumni, Zeller's recognitions include Better Business Bureaus Business of Integrity Torch Award Winner, City-County Observer Outstanding Community Service Award, Courier & Press Readers' Choice Award for Best Jewelry Store and Best Locally Owned Business, Evansville Living's Best of Evansville, Evansville Police Department Foundation Citizenship Award, Indiana Women's Jewelry Association Entrepreneur of the Year Nominee, Southwest Indiana Chamber Businessperson of the Year, Southwest Indiana Chamber Entrepreneur of the Year, Southwest Indiana Chamber Small Business of the Year finalist and YWCA's 100 Years / 100 Women.