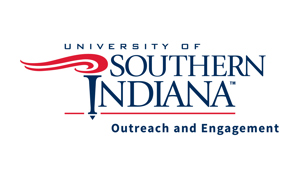 The University of Southern Indiana and Purdue University partnered to power the Rural Indiana Technology Commercialization Initiative. Funded by the Indiana Office of Defense Development (IODD), the initiative was launched in support of their mission to assist in the commercialization of the Department of Defense and other federal intellectual property and assets creating additional high quality jobs throughout the state. The collaboration was developed to increase and support the entrepreneurial ecosystem in the state.  
"We identified more resources supporting Indiana technology commercialization than were previously known," said Daniela Vidal, director of the USI's Opportunity Development. "An initiative with this many entities and services requires dedicated project management with intentional coordination and communication among partners so that resources can be used to maximize benefits for our region, especially within the rural areas. We are pleased with the positive outcomes of the collaboration."
Technology transfer projects developed as part of the initiative include development and documentation of a technology commercialization model, which maps and connects the network of resources available, including local economic development offices, co-working spaces and mentors; and, the identification of Naval Surface Warfare Center Crane (NSWC Crane)-related innovation for additional technology commercialization opportunities.
As part of the process to map current resources, three successful startups from USI's Technology Commercialization Academy (TCA) and Entrepreneurship Minor were mapped to identify processes, resources utilized and gaps. Those startups include Pivot Engineering LLC and H&H Heating Sources LLC, located in Evansville, Indiana, and Somatics Systems LLC in Jasper, Indiana.
Partnerships proved to be a key factor in furthering the development of Indiana's innovative ecosystem. USI programs, such as TCA, innovation discovery events and Eagle Innovation Accelerator, partnered with resources like USI's Applied Engineering Center, Purdue Foundry and IU's law clinic services to transfer intellectual property at NSWC Crane to market.
Purdue Foundry, an entrepreneurship and commercialization hub at Purdue, provided market analysis and business model development expertise, experiential learning techniques, and related startup services to several aspiring companies in the region. As part of this initiative, Purdue Krannert School of Management MBA students created 132 NSWC Crane innovation information sheets, which are now posted at Purdue Research Foundation's Office of Technology Commercialization Intellectual Property marketing website (Flintbox), for the discovery of future commercialization opportunities.
"I've enjoyed working with USI and NSWC Crane over the past few years and both are very impressive organizations," said Chad Pittman, vice president of the Purdue Research Foundation Office of Technology Commercialization. "This collaboration has taken us to the next level in combining our talents and to support the entrepreneurial ecosystem across the state. We look forward to continuing and expanding our collaborations with these and other groups."
Recommendations to move the initiative forward include establishing a state fund to support innovation commercialization, establishing an external entity in the Westgate area to provide program management and coordination, and capitalizing on currently supported technology commercialization activities, while also seeking other funding opportunities.
To learn more about this initiative and its impact, contact USI's Center for Applied Research (CAR) at 812-461-5442 or the Purdue Foundry at foundry@prf.org or 765-588-5250.