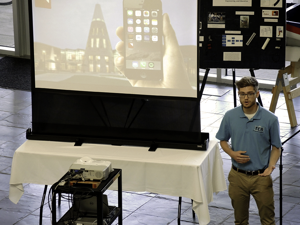 Teams of University of Southern Indiana students from the 2016 Technology Commercialization Academy (TCA) will present final product ideas at 10 a.m. on Friday, July 22 in the USI Business and Engineering Center (BEC) atrium. Local business leaders, regional entrepreneurs and USI faculty and staff are encouraged to attend the concept pitches. Questions and comments will help students determine if they will continue with their concepts and turn them into viable products.
"TCA trains future professionals in fields such as engineering, business, health professions, education and computer science to innovate," said Dr. Jason Salstrom, manager of Technology Commercialization. "By employing Design Sprints and other "lean" innovation methods, cost-effective solutions are developed and tested for commercial potential in as little as three days."
This year, TCA students, working with faculty and industry partners, utilized these methods to develop new products with the mission to help regional companies grow. New product ideas were inspired by cutting edge technology developed by Naval Surface Warfare Center Crane, as well as by other federal laboratories and regional businesses.
"Pivot Engineering and Somatic Systems are two companies that were recently created in the TCA," said Salstrom. "Each year at the end of the program, students have the option to apply to take their concepts through the Eagle Innovation Accelerator."
Along with the Eagle Innovation Accelerator and other USI entrepreneurship programs, TCA furthers the initiative to create an innovative ecosystem in Indiana. This ecosystem will generate new business opportunities, facilitate rural technology transfer, and improve industry and economic development in the region.
For more information on the 2016 Technology Commercialization Academy, visit USI.edu/TCA.