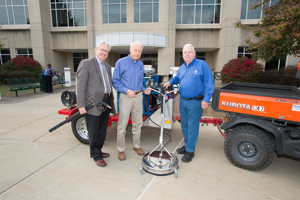 The human eye gets accustomed to the familiar places we frequent on a daily basis. So much so that after a while, we begin not to see the little details that surround us. However, Tim Mahoney, instructor in economics and adviser in the Romain College of Business, is used to using an "outsider's perspective" when it comes to his surroundings. Having worked previously for a California-based consulting firm, he would analyze the environments and appearances of various businesses ranging from retail establishments to industrial sites.
At USI, he often gives prospective students and their parents a tour of the campus. While most of us wouldn't notice dirt in the crevices of buildings or the black circles of sunbaked chewing gum on the sidewalks, Mahoney's well-trained eye couldn't overlook it. New visitors to campus often see these imperfections as well. "We have a wonderful campus, but in our busiest areas, dirt and grime build up over time, and those areas are the front door of our campus," said Mahoney.
Speaking with David Bower, director of development and president of the USI Foundation, Mahoney asked if the University owned a power washer or had plans to purchase one. An industrial power washer was on the wish list for the Physical Plant, but other purchases were higher on the list of priorities. Bower quoted him a price, and Mahoney decided he would purchase and gift the unit to the University. "I see it as an opportunity to brighten up the campus," said Mahoney. "I'm more than happy to donate, and this is an example of donating and being able to see the change right away."
Don Broshears, Custodial Services supervisor, spent time researching and finding the best, longest-lasting piece of equipment, and ultimately decided on an Alkota hot water power washer. "This is a great addition to our campus maintenance stable and much appreciated," said Broshears. The machine will be utilized to clean building exteriors and power off grime and baked-on gum from the sidewalks. The crew has done some preliminary spot testing and will complete a small cleaning in Student Housing before winterizing the equipment and storing it for next spring. Broshears says he plans to have a dedicated crew to do extensive campus cleaning during the summer months.
"Tim Mahoney is always thinking of others," said Bower. "Underwriting our most unusual gift ever, which will ensure an ever-cleaner campus, is another example of how much Tim respects the University, those who work and study here, as well as those who visit campus. He wants everyone to see USI at its best."