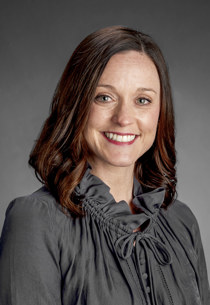 The University of Southern Indiana will hold a Commencement ceremony for graduate students at 6:30 p.m. Friday, April 28 in the Physical Activities Center (PAC) on the USI campus
The speaker for the Graduate Ceremony is Amy Jo Sheeley '01 '05 M'06, practice administrator for St. Vincent Medical Group—Evansville OB/GYN. Sheeley completed a bachelor's degree in psychology in 2001, a bachelor's degree in occupational therapy in 2005 and a master's degree in occupational therapy in 2006, all from the University of Southern Indiana.
Immediately after graduation, Sheeley began her career with Select Specialty Hospital of Evansville, a long-term acute care hospital. While at Select, she was instrumental in obtaining special certifications for the hospital. As a member of the leadership team, she served as patient ambassador, was an integral part of the Interdisciplinary Care Team and was chairman of the Safe Patient Handling Committee.
Sheeley has over a decade of clinical and patient care experience as well as leadership experience as Rehab Therapy Manager at Select Specialty Hospital over the physical, occupational and speech therapy services. Most recently, she expanded her personal vision to include a career change with St. Vincent Medical Group—Evansville OB/GYN.
Sheeley has continued to maintain a relationship with USI and the Occupational Therapy Program. She has participated as a clinical instructor, guest speaker, member of the interview board for incoming occupational therapy students and, most recently, co-presenter at the Mid-American Institute on Aging and Wellness. She is active with the March of Dimes in Evansville, and previously with the NICU Parent Advisory Board at the Women's Hospital.
Also at the Graduate Ceremony, the honorary Doctor of Laws degree will be presented to Linda E. White, president and CEO of Deaconess Health System, who is celebrated for her commitment to innovative learning experiences and dedication to quality health care.
Guests of the graduates will require a ticket to attend the ceremony. A reception for the graduates and their friends and families will follow the ceremony and will be held in University Center East.
The four colleges at USI will conduct Commencement on April 29 according to this schedule:
Pott College of Science, Engineering, and Education, 9 a.m.
College of Nursing and Health Professions, noon
Romain College of Business and Outreach and Engagement, 3 p.m.
College of Liberal Arts, 6 p.m.
Live video of each ceremony will be streamed in University Center East Conference Center (Rooms 2217-2220). The ceremonies also may be viewed online at USI.edu/live-stream.