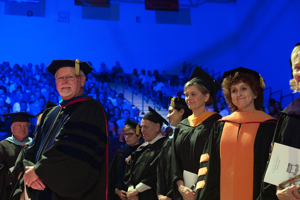 Bagpipes will be piping and faculty, decked in full regalia, will process their way across campus for the first annual Faculty Convocation beginning 2:30 p.m. Friday, October 13. The Convocation will highlight and celebrate the accomplishments of USI faculty. "It gives the opportunity for those who are already veterans in the academy and those who are newly minted, to come together and build a cultural awareness of what it means to be a professor," said Dr. Ronald Rochon, provost. "They have committed their lives to pedagogical practices, and I find that to be a worthy calling."
The Distinguished Professor Award, Sydney L. and Sadelle Berger Faculty Community Service Award, USI Outstanding Teaching by Adjunct Faculty Award and H. Lee Cooper Award will be announced. Newly-minted PhDs, newly tenured and promoted faculty, emeriti, and those who have served the University 25 years or more also will be recognized.
The processional will start in the upper-level lobby of the USI Performance Center. Faculty are encouraged to be signed in and lined up in the lobby by 1:45 p.m. The procession will cross campus ending in the University Center's Carter Hall. The ceremony will begin at 3 p.m. with an opening from Dr. Linda Bennett, president, followed by a reflection from Rochon. A reception will follow with gathering spots in the University Center East corridor, Room 2207, Tradition's Lounge and Heritage Lounge. Hors d'oeuvres will be served. RSVP to confirm attendance and specify any dietary and/or disability-related accommodations you require.
For more information contact Sheree Seib at sheree.seib@usi.edu or 812-461-5419.