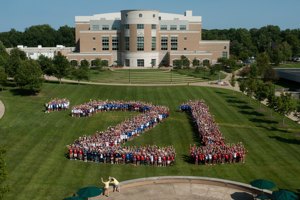 This fall, the University of Southern Indiana welcomed the largest number of graduate students in the University's 52-year history. Overall masters and doctoral program enrollment stands at 1,308 – a 22.5% increase over the previous year. USI currently offers 13 master's programs and one doctoral program. The University began providing graduate programs in 1984.
"USI has always delivered educational excellence to our students. It's clear there is a greater need for graduate-level education, which is now serving as a growth driver for the institution," said Dr. Linda L. M. Bennett, president. "Seeing the advancement in these programs is a testament to the hard work of our faculty and the continued academic and professional excellence found within our offerings."
The growth in graduate students is across many of USI's graduate programs, including a variety of concentration areas in the accelerated MBA program, as well as full-time programs offered through all four of USI's colleges.
"The caliber of graduate students choosing USI is impressive, and it's clear that these students are attracted to us because of the reputation of our programs and quality of our faculty," said Dr. Mayola Rowser, director of Graduate Studies. "As we look to meeting the future needs of students and the community, it is clear that expanding our graduate level educational offerings is integral."
Along with the growth in graduate students, USI continues to see growth in freshmen. There are 1,722 first time in college students, a 2.2% increase from fall 2016. The average high school GPA for the incoming freshman class is 3.36 on a 4.0 scale.
Total USI enrollment is up 340 students from last academic year to 11,033 for the 2017 fall semester, which includes students in undergraduate and graduate degree programs and 2,016 students enrolled in USI's College Achievement Program (CAP) classes in 27 high schools across Indiana. CAP has a long tradition of successfully enabling many students to graduate college in four years or less.
Students at USI represent 90 Indiana counties, 39 states and 70 countries. Out of state enrollment, including international students, makes up approximately 17% of the student population, and minority and international students comprise more than 14%.