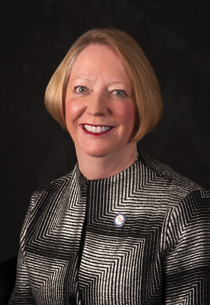 After more than 39 years at the University of Southern Indiana, including 14 as vice president for Government Relations and later vice president for Government and University Relations, Cynthia (Cindy) Brinker has announced plans to retire effective December 31, 2018. She will serve her last six months on sabbatical with her last official day at the University being June 30, 2018.
"I have truly enjoyed my time at USI," said Brinker. "I have worked with so many great people and had the opportunity to be a part of the growth and development of our campus. Working with the Indiana General Assembly, I was able to share the USI story and what a remarkable story we have to tell! We have much to be proud of with our students and alumni. USI is and always will be a very special place."
Brinker joined USI in 1979, and for 12 years served as the director of Human Resources. In 1991, she was promoted to assistant vice president for Business Affairs and became the University's primary legislative liaison. In 2004, she was promoted to vice president for Government Relations, and in 2008, became the vice president for Government and University Relations. She holds a bachelor's degree in psychology from DePauw University.
Brinker works closely with members of the Indiana General Assembly concerning legislation impacting higher education and in advancing the University's biennial operating and capital budget request. She also serves as the University's primary liaison with the Indiana Commission for Higher Education and the State Budget Committee. In addition to her work at the state level, she leads the University Relations team, which includes Marketing and Communications, Community Relations, Special Events and Scheduling Services, and Alumni Relations and Volunteer USI. 
"Cindy Brinker's important contributions over nearly four decades have enhanced the visibility of USI and her tenacious engagement in the Indiana State House has earned her respect from her peers and legislators," said Dr. Linda L. M. Bennett, USI president. "Her love of this community and passion for representing this place of higher education have left an indelible mark." 
Brinker has served on and chaired various University committees throughout her career. Most recently she chaired the University's 50th Anniversary Celebration. She has served the Evansville regional community as a member of numerous boards including the Girl Scouts of Southwestern Indiana, Evansville Human Resource Association, Keep Evansville Beautiful, the Government Affairs Committee of the Southwest Indiana Chamber of Commerce and others.
An announcement about the vacancy will be made at a later date.